Acid reflux is known to most as a digestive disorder, with its main symptom being heartburn. But in its chronic form, known as gastroesophageal reflux disease (GERD), its effects can extend well beyond the digestive tract. Severe GERD can contribute to serious respiratory disorders including asthma, bronchitis and inflammation of the lungs. If you're experiencing shortness of breath and also suffer from acid reflux, understanding more about how the two may be linked could help you find a resolution to both.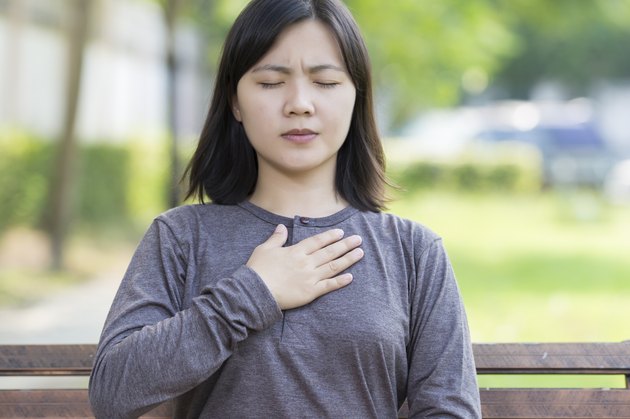 Stomach Contents and the Airways
Acid reflux occurs when stomach contents leak into the esophagus through the muscular valve that normally seals tightly to separate the two. This acidic material usually causes irritation of the lower esophagus, but sometimes it splashes higher into the throat, onto the vocal cords or into the mouth. This variant of GERD is called laryngopharyngeal reflux (LPR). When acidic gastric contents come into contact with the esophagus or minute particles get into the lungs through inhalation, they may trigger reflexes that cause respiratory symptoms.
Acid Reflux and Asthma
The association between acid reflux and asthma is well-established, though the exact mechanisms are not well-understood. In a review of 28 studies published in the December 2007 issue of the journal "Gut," it was found that symptoms of GERD were present in 59 percent of people with asthma. While GERD is not believed to actually cause asthma, researchers theorize that acid reflux could aggravate it in several ways. The acid could stimulate shared respiratory and digestive system nerves, triggering defensive reflexes such as cough, airway spasms and increased mucus secretion. Inhaling tiny amounts of gastric contents could also exacerbate asthma by triggering inflammation and airway constriction. Additionally, some asthma medications could bring on GERD symptoms that then aggravate asthma symptoms.
Aspiration Pneumonia
Chronically ill people with compromised lung function who may be bedridden for long periods may be susceptible to a form of pneumonia known as aspiration pneumonia. Preexisting GERD increases the risk for this condition. Inhaling large amounts of stomach contents can infect the lungs and cause a chemical burn of the airways, leading to obstructed airflow and fluid retention in the lungs. Aspiration pneumonia, which is unlikely to strike otherwise healthy people, comes on suddenly in a matter of hours. It is treated with antibiotics and other drugs, and breathing support is often needed. Symptoms include fever, shortness of breath and a cough producing a bad-tasting sputum.
Other Respiratory Problems
A study of people with chronic obstructive pulmonary disease (COPD) found that people who had GERD symptoms experienced twice the number of COPD flareups over a year compared to those without reflux, as reported in October 2006 in the journal "Chest." The researchers also noted that those with weekly reflux were more likely to be hospitalized for a COPD flareup.
A large study published in September 1996 in "Gastroenterology"found that people with GERD who demonstrate inflammation of the esophagus have a somewhat higher incidence of idiopathic pulmonary fibrosis (IPF). The disease causes the lung tissue to become thick, stiff and ultimately rendered unable to function. The direct cause of IPF, however, remains unknown.
Next Steps and Warnings
There are many causes of shortness of breath and relatively few of them are related to LPR. Shortness of breath can indicate a serious underlying medical condition, such as pneumonia, heart attack or heart failure and should be evaluated by a doctor. If you experience a sudden or severe shortness of breath, you may need emergency medical attention.
If LPR is suspected as the cause, your healthcare practitioner may recommend a trial of acid-blocking drugs called proton pump inhibitors, or PPIs. Lifestyle changes may also be recommended. Sleeping at an incline on a foam wedge helps gravity keep stomach liquids from traveling into the esophagus. Losing excess weight is another recommended, evidence-based lifestyle change that has a high success rate in improving incidence of GERD.