Testosterone is an androgenic and anabolic hormone secreted by the testes in men. Women also secrete some through the ovaries, and some is also produced by the adrenal glands. Testosterone is primarily a male hormone, and thus men produce about 40 to 60 percent more than women. While male and female muscle tissue is identical, testosterone is responsible for greater muscle size and strength in men.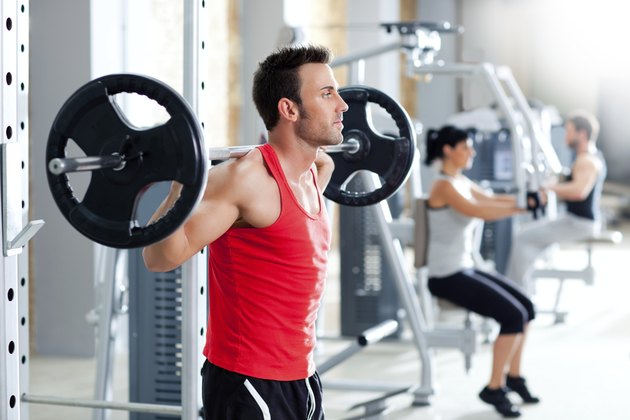 Limitations to Growth
The development of muscle in your body is somewhat limited due to a combination of your unique genetic disposition and the demands you put on your body. You can change the demands you put on your body by participating in a weight-training program, but genetically limitations may prevent you from achieving the muscle size you desire. According to exercise scientist Len Kravitz of the University of New Mexico, specific proteins called growth factors, growth hormone, cortisol and testosterone all influence your capacity to increase muscle size.
Breaking It Down
Cortisol is a hormone that breaks muscle tissue down. As new muscle tissue is produced, old tissue is cannibalized. According to Kravitz, cortisol is categorized as catabolic, having the opposite effect as testosterone, insulin and growth hormone in that it breaks down tissue rather than building it up. Cortisol enables your body to use muscle protein for energy, or to make other proteins needed in your body during times of stress. Large amounts of circulating cortisol can inhibit muscle growth, even when testosterone availability is optimal.
The RBC Connection
Red blood cells transport oxygen to working muscles, removing lactic acid buildup as you exercise. The ability to overload the muscle is necessary in order to cause your body to rebuild and form new muscle tissue. If you can improve your training by increasing how hard you can push yourself, then you will end up with more overload, and thus more muscle tissue. According to a 2006 article published in "Bio-Medicine," a group of women taking testosterone supplements showed significant improvements in muscle strength and function compared with measurements taken before the study due to increased red blood cell concentration. It is believed that testosterone increases red blood cell production, allowing you to push yourself harder in your workouts to make greater improvements in muscle mass over time.
Getting Low
In a 2008 article in "Life Extension Magazine," Paul D. Navar, MD explains that testosterone levels in men begin to decrease sometime in the mid-30s. Older bodybuilders may have a hard time achieving and maintaining optimal muscle mass due to hormonal testosterone decline. Navar notes that lower testosterone levels also increase the risk of cardiovascular disease, depression and prostate cancer in men. In addition to age, poor nutrition, low fitness levels, and pharmaceuticals can interfere with testosterone production.
Is This an Emergency?
If you are experiencing serious medical symptoms, seek emergency treatment immediately.