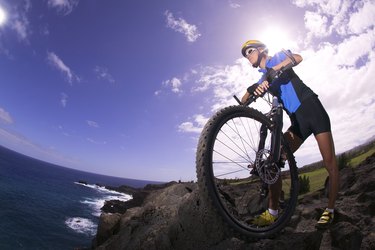 Shimano derailleurs are ubiquitous in road and off-road cycling. They are known for their industry-leading dependability and toughness. For mountain and road biking, Shimano provides three levels of derailleurs, ranging from high end to midrange and budget derailleurs.
Top-line Derailleurs
The top-level mountain bike derailleurs offered by Shimano are the XTR and Saint, while Dura Ace and Ultegra round out the road bike derailleurs. They feature fast-shifting mechanisms, self-tensioning features, high-end bearings and carbon fiber fabrication. The Dura Ace and Ultegra derailleurs are also compatible with electronic shifting.
Midrange to Budget Derailleurs
For durability and price point, Shimano offers the Deore and SLX mountain bike derailleurs. Both have low-profile stances to avoid damage while riding off road. Shimano's midrange road derailleur is the 105, and Tiagra and Soma comprise the budget line. The 105 is noted for its toughness and race-worthy abilities.
Comparison With Campagnolo and SRAM
Availability and strength define Shimano's derailleurs in comparison with Campagnolo and SRAM, two of the other leading manufacturers. Shimano's popularity over Campagnolo allows its derailleurs to have more access to repair and replacement, and SRAM's derailleurs have been known to fail, particularly in racing situations.