All workouts aren't created equal as some routines burn calories much more efficiently than others. The key to losing weight is to expend more calories than you consume, so finding exercises that burn the maximum amount of calories is the best way to go. In addition to consistent exercise, you also should implement a healthy, well-balanced diet as part of your overall weight loss plan.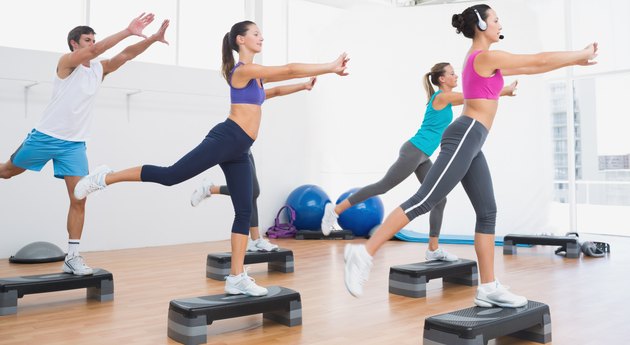 Step Aerobics
As an intense and high-energy aerobic workout, step aerobics can help you burn calories faster than most any other cardio workout, according to ShapeFit.com. As a long-time favorite workout primarily used by women, step aerobics works your hips, glutes and legs. This workout tackles all the "trouble zones" for women, although it's also an effective way for men to strengthen core muscles while burning a substantial number of calories. Most fitness centers offer step aerobics classes or similar alternatives. ShapeFit.com claims that just 30 minutes of step aerobics can burn about 400 calories.
Biking
Biking is a good workout for three reasons -- it's fun, it burns plenty of calories and it's a low-impact exercise. Since the impact on your joints is minimal, riding your bicycle is an ideal choice if you suffer from joint pain. Whether you use a stationary bike or ride outdoors, biking can burn between 250 and 500 calories per 30 minutes, according to ShapeFit.com. Riding uphill or under increased resistance, such as on a stationary bike, can increase your calorie burn. Burning 500 calories a day is the equivalent of losing a 1 lb. a week.
High Intensity Interval Training
High Intensity Interval Training, or HIIT, offers a high level of weight loss potential in a relatively short time. Use HIIT to lower your body fat levels, increase your speed and quickness, and boost your metabolism, recommends MyFit.ca. This type of exercise regimen works by combining a "rest" and a "work" interval into a short cycle. For instance, jog for 30 seconds and immediately transition into a full sprint for 30 seconds. Repeat this rest-and-work cycle five to 10 times per workout for the maximum results. HIIT also works during such physical activities as biking, rollerblading, swimming, walking and jogging. Check with your doctor before starting a HIIT regimen as it's a very challenging type of exercise.
Incline Treadmill Workout
Treadmills are useful fitness tools for losing weight. One key feature of most treadmills is the ability to increase the deck's incline. Increasing the incline by 5 percent may boost the number of calories you burn by 30 percent or more, according to CaloriesPerHour.com. For an even greater weight loss benefit, increase the incline to 10, 12 or an even higher percentage. Walking on an incline typically is easier on your joints, so it's also a good choice if you suffer from joint pain. A brisk walk -- 3.5 to 4 mph -- on an inclined treadmill is an efficient way to speed up your weight loss results.