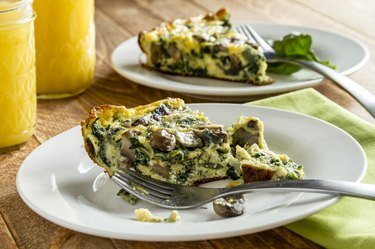 A low-carb diet usually contains 40 percent or fewer calories from foods like starchy vegetables and fruits, grains, cereals, pasta, sweets, breads and rice, says Every Diet. A low-carb diet can help you lose weight because it severely limits entire food groups that can be a major source of calories. You can choose from several low-carb meal options to keep your calories and fat under control.
Egg whites are low in calories and high in protein. They also do not contain carbohydrates. Scramble four egg whites with baby spinach, mushrooms and 1 oz. of Swiss cheese for about 200 calories and just 3.5 g of carbohydrates. Add a ½ cup of raspberries to add just 30 calories and 7 g of carbohydrates. Other low-carb additions to egg whites are salsa with a slice of avocado, smoked salmon and cream cheese or diced tomatoes and feta cheese.
Ham and Cheese and Tuna Salad
Avoid spending the money and navigating restaurant menus by preparing a low-carb, low-calorie lunch at home. Make pinwheels by rolling 3 oz. of deli ham and 1 oz. of cheese in large romaine leaves and slicing for just about 200 calories and 2 g of carbs. Include an orange for just another 11 g of carbs and 60 calories.
Use endive leaves to scoop up a salad made by stirring together 3 oz. water-packed tuna with 1 tbsp. of capers, lemon juice, chopped celery and 1 tbsp. of non-fat yogurt for about 5 g of carbs and 180 calories.
Low-carb, low-calorie dinners do not have to include a lot of preparation. Usually 3 to 4 oz. of a grilled or broiled lean protein alongside watery, fibrous vegetables will come in under 300 calories and 10 g of carbs. Purchase a rotisserie chicken and eat the breast alongside a salad made with a bag of pre-washed greens, a ½ oz. of blue cheese and light balsamic dressing for a dinner of 250 calories and about 4 g of carbs. Bake 4 oz. of wild salmon in a 400-degree oven until cooked through and enjoy with eight asparagus spears for 250 calories and just 5 g of carbs.
Restricting calories is one way to lose weight. If you are looking for meal ideas that are low in calories, there are many delicious options for you. According to Reader's Digest, creators of "Low-Calorie Cookbook," eating meals low in calories is possible if you focus on wholesome ingredients that also contain protein for energy. Try several different 100-calorie meals to find ones that you like enough to continue eating until you reach your weight loss goals.
Strawberry Yogurt Smoothie
A smoothie is a healthy breakfast choice that contains calcium, protein and several different vitamins and minerals. Reader's Digest says that you will need 1/4 lb of strawberries, the juice and zest of 1/4 orange and 1/8 cup of plain low-fat yogurt. Place the strawberries, orange juice, zest and yogurt into a blender and mix until it is smooth. Serve in a tall glass for a total of about 55 calories. For a few extra calories, add a few banana slices to the top of the smoothie, suggests Reader's Digest.
For about 55 calories, you can have a large bowl of fruit that will provide you with several vitamins and minerals as well as several grams of fiber to help keep you full, says Reader's Digest. You will need several different kinds of fruit, such as strawberries, blueberries, blackberries and raspberries. Add more exotic fruits, such as currants or passionfruit, suggests Reader's Digest. Aim for about one cup of fruit. Cut the fruit into bite sized pieces and place in a large bowl. You can drizzle 1 tsp. of honey or 2 tbsp. of plain low-fat yogurt over the top for just a few additional calories.
According to Dana Carpender, author of "Dana Carpender's Every Calorie Counts Cookbook: 500 Great-Tasting, Sugar-Free, Low-Calorie Recipes the Whole Family Will Love," you can make impressive and tasty lunches for around 100 calories. For Lobster Salad, you will need 1/8 lb of fresh lobster, 1 tbsp. of dry-packed sun-dried tomatoes, 1 tbsp. of jarred roasted red peppers, 2 tbsp. of sliced celery, 1 sliced green onion, 2 teaspoons of light mayonnaise, a lettuce leaf and 1 tbsp. of pine nuts. Mix all of the ingredients, except the pine nuts and lettuce leaf, together. Add salt and pepper to taste and scoop into the lettuce leaf. Sprinkle with pine nuts just before eating.
Cream Of Celery Soup With Tarragon
Soup is a low-calorie meal option that can be prepared in many different ways, says Ellen Brown, author of "$3 Low-Calorie Meals: Delicious, Low-Cost Dishes That Won't Add to Your Waistline." Cream of Celery Soup with Tarragon has about 70 calories per serving. Make several servings of this soup at one time so you can have a low-calorie lunch on hand when you need one. You will need 4 cups of sliced celery, 3 1/2 cups of vegetable broth, 1/3 cup of white rice, 2 tsp. of dried tarragon and 1/2 cup of whole milk. Combine all the ingredients, except the milk, in a large saucepan and bring to a boil. Simmer for about 30 minutes, or until the celery is soft. Puree the soup in a blender or food processor until it is smooth. Put the soup back in the pan and add the milk. Rewarm the soup for about two minutes. Add salt and pepper to taste.