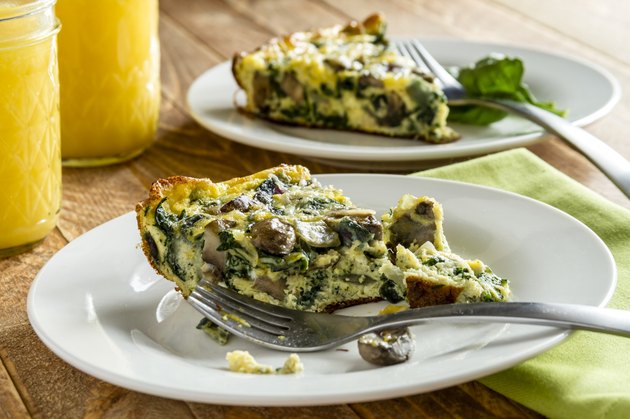 A low-carb diet usually contains 40 percent or fewer calories from foods like starchy vegetables and fruits, grains, cereals, pasta, sweets, breads and rice, says Every Diet. A low-carb diet can help you lose weight because it severely limits entire food groups that can be a major source of calories. You can choose from several low-carb meal options to keep your calories and fat under control.
Egg White Omelets
Egg whites are low in calories and high in protein. They also do not contain carbohydrates. Scramble four egg whites with baby spinach, mushrooms and 1 oz. of Swiss cheese for about 200 calories and just 3.5 g of carbohydrates. Add a ½ cup of raspberries to add just 30 calories and 7 g of carbohydrates. Other low-carb additions to egg whites are salsa with a slice of avocado, smoked salmon and cream cheese or diced tomatoes and feta cheese.
Ham and Cheese and Tuna Salad
Avoid spending the money and navigating restaurant menus by preparing a low-carb, low-calorie lunch at home. Make pinwheels by rolling 3 oz. of deli ham and 1 oz. of cheese in large romaine leaves and slicing for just about 200 calories and 2 g of carbs. Include an orange for just another 11 g of carbs and 60 calories.
Use endive leaves to scoop up a salad made by stirring together 3 oz. water-packed tuna with 1 tbsp. of capers, lemon juice, chopped celery and 1 tbsp. of non-fat yogurt for about 5 g of carbs and 180 calories.
A Protein with Veggies
Low-carb, low-calorie dinners do not have to include a lot of preparation. Usually 3 to 4 oz. of a grilled or broiled lean protein alongside watery, fibrous vegetables will come in under 300 calories and 10 g of carbs. Purchase a rotisserie chicken and eat the breast alongside a salad made with a bag of pre-washed greens, a ½ oz. of blue cheese and light balsamic dressing for a dinner of 250 calories and about 4 g of carbs. Bake 4 oz. of wild salmon in a 400-degree oven until cooked through and enjoy with eight asparagus spears for 250 calories and just 5 g of carbs.