The sciatic nerve extends from your spine all the way down to your legs. When the sciatic nerve becomes pinched or compressed, you experience pain and numbness down the length of the nerve. This injury is usually the result of a herniated disc, but can also be caused if the nerve is damaged through trauma, or if the piriformis muscle becomes too tight, compressing the sciatic nerve.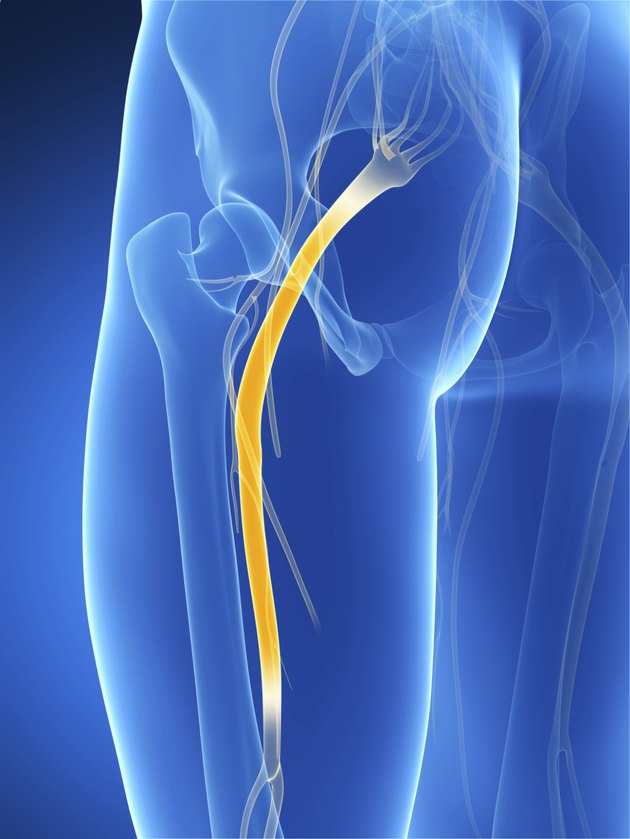 Lower Back Exercises
The lower back is the site of sciatic compression, so overloading it too soon will prevent any disc or muscle that's in contact with the nerve from releasing pressure. The University of Maryland Medical Center recommends avoiding any exercises that place a high amount of stress on your lower back. This can be almost any weight-bearing exercise during the first four to eight weeks after injury. Once rehabilitation is possible, you should continue to avoid exercises such as the squat, deadlift and back extension.
Leg Exercises
Certain leg exercises can also exacerbate your sciatica. The University of Maryland Medical Center recommends avoiding activities like leg curls, and leg lifts while lying face down. Any leg or glute exercises should start off using very light weight or body weight. Too much weight will add pressure to the lower back and can cause a relapse of your sciatica. Keeping the legs straight during core exercises like sit-ups makes the lower back a fulcrum and puts too much stress on the weakened muscles.
High Impact Conditioning
While low impact aerobics can be very beneficial as a rehab tool, you should avoid higher impact exercises such as sprinting or high intensity interval training during the period immediately following your sciatic injury. Instead, focus on conditioning exercises such as swimming and walking. These activities can begin as soon as two weeks after your injury, if cleared by a doctor.