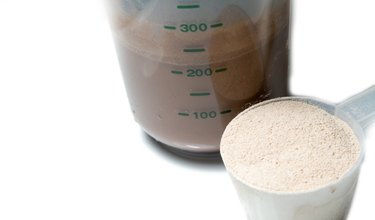 The Slimfast plan involves eating two meal-replacement shakes or bars, three healthy snacks and one self-prepared, 500-calorie meal for a total of about 1,200 calories daily. The plan is convenient but may not be for everyone since it has a limited selection of bars and shakes. If it's not for you, or you're looking to rotate between similar plans, there are alternatives available.
Medifast
The Medifast plan is a good alternative if you need more flexibility and a wider range of foods. Medifast offers three weight-loss plans, like the 4 & 2 & 1 plan where you eat four Medifast meals, two healthy, self-prepared meals and one healthy snack for a total of about 1,300 calories daily. Medifast offers a selection of meal-replacement shakes, bars, soups, smoothies, breakfast foods like eggs, cereal, oatmeal and pancakes, as well as snacks such as soft baked cookies, puddings and pretzels.
Optifast
If you have a lot of weight to lose or need a more comprehensive plan that involves meal replacements, Optifast is a good option. It's a medically supervised plan that includes counseling and lifestyle education to give you the tools to keep the weight off. Optifast is a very low-calorie full meal-replacement diet that incorporates Optifast shakes, soups and bars for a total of about 800 calories daily. Because it's very low in calories, you take a vitamin and mineral supplement to ensure you get enough nutrients.
DIY Shakes
By making your own meal-replacement shake, you control the ingredients. This is a good option if you have dietary restrictions, like lactose or gluten intolerance. Experiment with low-calorie shake ideas based on the flavors you like. Good ingredients to try are lactose-free yogurt, unsweetened almond milk, peanut butter powder, raw cacao powder, ground chia seed, ground flaxseed and a variety of berries. If you're not allergic to peanuts, try peanut powder. It's low in fat compared to regular peanut butter -- less than 2 grams of fat per serving. Keep track of the serving size and total calories so that you stay within your goal range.
Other Commercial Options
Visit your local health food store to see what meal replacement shakes are available. Use the supplement label to make a healthy selection. Compare the total calories, sugar and fat of each shake. It's ideal to choose an option that is low in fat, contains minimal added sugar and is around 200 calories or less. Look for an option that contains some fiber, since you're using it in place of a regular meal. Fiber slows digestion and helps keep you feeling full.