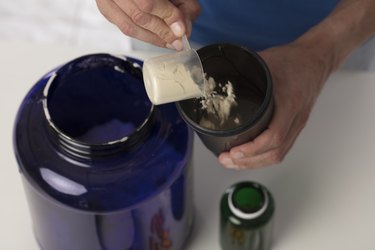 Americans get more than enough protein by eating a varied diet, according to the Centers for Disease Control and Prevention. Most adults need between 46 and 56 grams of protein a day, although some may require more due to chronic health conditions, weight-loss surgery, fitness level or other factors.
Commercially manufactured powders provide a convenient source of protein when mixed as a shake, but only medically supervised patients should use them as substitutes for all meals, as they lack fiber and other nutrients, according to the Mayo Clinic.
Step 1: Follow Directions
Read the label on your choice of protein powder to determine the number of scoops you will need per serving. Some recommend one scoop while others recommend two scoops.
Step 2: Choose a Base and Mixing Method
Select the appropriate liquid for your taste as well as your dietary needs. Consider the flavor of the protein powder, the desired consistency and temperature and whether or not you need to limit your intake of calories or carbohydrates.
Although manufacturers' labels recommend water, other possible choices include milk of any type (cow's milk, almond milk or cashew milk), juice, coffee, tea, lemonade, pudding or yogurt.
Choose your mixing equipment. Plain shakes blend well with a spoon, fork or shaker cup. If you plan to add fruit, ice or other ingredients, however, you'll need a blender.
Step 3: Measure and Add Half
Measure the liquid into a glass, bowl, shaker cup or blender. Follow the instructions on the protein powder label — usually six to eight ounces per serving — or adjust the amount if you prefer a thicker or thinner shake.
Add a half of the appropriate amount of protein powder to the container if your liquid is cold or at room temperature. To mix with hot coffee, tea or soup, pour a small amount of tepid water into a separate glass to make a paste before adding it to the liquid.
Step 4: Shake or Stir
Stir quickly with a fork or spoon for a few seconds or, if using a shaker container, close the top and shake briskly. If using a blender, use the blend setting for a few seconds.
Allow the mixture to rest for a minute, then add the remaining protein powder to the container. Stir, blend or shake until all lumps are gone. Some protein powders dissolve more easily than others, so continue to mix until the shake is smooth.
Alternatively, you can pour hot liquids into the room temperature protein powder paste and stir with a spoon or add ice cubes or fruit to the blender for a protein smoothie.