Experiencing stomach pain after eating a dairy product one time could be due to eating too much or because the product was spoiled. If you experience pain consistently after eating dairy, however, it is most likely an underlying digestive problem. For example, many people cannot digest the sugar -- called lactose -- found in dairy products, which can cause stomach pain. An allergy to the proteins in milk can also cause similar problems. Some digestive diseases, such as irritable bowel syndrome, can also be exacerbated by dairy products. Consult a doctor to determine the underlying cause if you experience the problem regularly.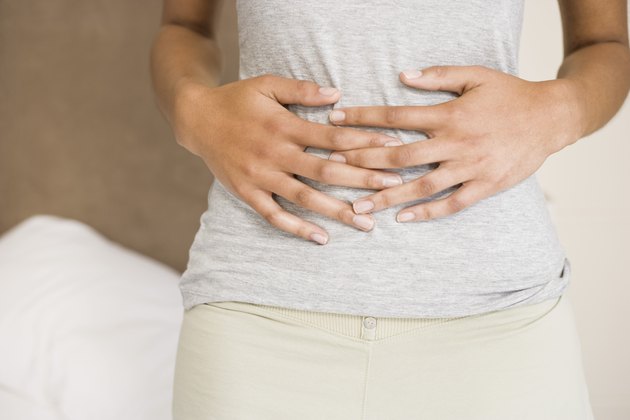 Lactose Intolerance
Dairy products -- products made from milk -- contain a sugar called lactose. An enzyme -- called lactase -- in the small intestine breaks down the sugar, but not everyone has the enzyme. This leads to a condition known as lactose intolerance. Not everyone who is lactose intolerant will have issues, but symptoms such as stomach pain, bloating, gas and diarrhea are common. It is estimated that between 30 and 50 million people in the U.S. are lactose intolerant, according to the Ohio State University Wexner Medical Center. Asian-Americans experience it the most, while it is least common in those of northern European ancestry.
Milk Allergy
The proteins in milk are a common trigger of allergic reactions. Milk allergies occur most often in infants and children, according to the Cleveland Clinic, but they can happen at any age and can be caused by foods that were previously edible without incident. An allergy to dairy products is caused by an improper response from the immune system and has symptoms common to allergic reactions including itching, hives, runny nose and tingling around the mouth. Digestive symptoms are also common and can include stomach cramps, nausea, vomiting and diarrhea. Symptoms vary from person to person, so stomach pain might be the only one you experience.
Digestive Disorders
Digestive problems can be exacerbated by eating dairy products, particularly irritable bowel syndrome, or IBS. The origin of IBS is unclear, but it occurs when the muscles of the intestines contract too slowly or too quickly. Dairy products are a common trigger of the symptoms of IBS, which can include stomach pain. Other symptoms include bloating, gas, and diarrhea or constipation -- or alternating incidences of both. Other, more serious disorders such as Crohn's disease can also be exacerbated by dairy products, leading to stomach pain.
Other Considerations
Eating dairy products tainted with bacteria, commonly referred to as food poisoning, can cause stomach pain, but it is usually temporary and occurs as an isolated incident. The same goes for eating too much of a particular dairy product. However, a serious incidence of food poisoning may require immediate medical treatment. If you are lactose intolerant, you may need to avoid dairy products or take a supplement that contains lactase to prevent stomach pain. A milk allergy can be severe and along with avoiding dairy products, you may be required to carry a shot of adrenaline to avoid going into shock after accidental consumption. If you have a digestive disorder, avoiding dairy products is recommended if they cause you pain. Consult your doctor for specific recommendations.