The hamstrings are a group of large muscles at the back top of the thigh. They consist of the semimembranosis, the semitendinosis, and the biceps femoris muscles. If these muscles become tight, they can be easily injured. The right stretching program can help to avoid hamstring pulls or tears. Before starting a stretching program, it is important to understand how to stretch correctly in order to get the best benefit.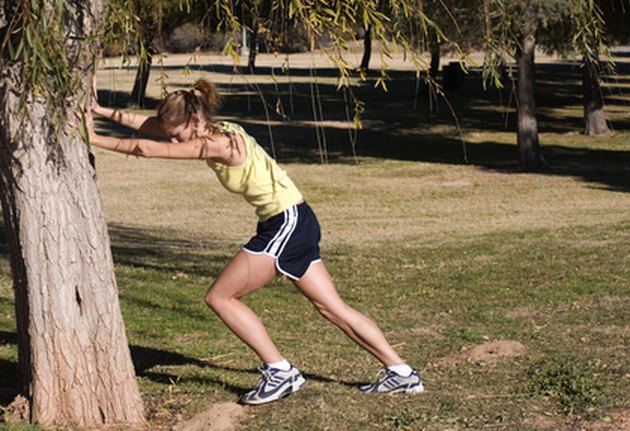 Considerations
If the hamstring muscles are tight or weak, they are more susceptible to injury, states the American Academy of Orthopaedic Surgeons. Muscles that are weak or tight are not able to properly support movement. In addition, over-training or improper training can make the risk of a strain or tear even higher. Hamstring injuries can take weeks or months to heal, and the best bet is prevention. Taking time to stretch the hamstrings daily, as well as before and after exercise, will help to decrease the risk of a pull or strain.
Time Frame
There is no set time frame in terms of how long it takes to gain more flexibility in the hamstrings. According to the American Council on Exercise, everyone's natural level of flexibility is different. In addition, flexibility is determined not only by by genetics, but also by gender, age, body shape and level of physical activity. Adding to this, the more regularly a person stretches the faster flexibility will improve. ACE recommends stretching for all muscle groups for 30 minutes at least three times a week for the most benefit.
Technique
To help improve flexibility as quickly as possible, it is important to stretch correctly. The Mayo Clinic recommends warming up the body before stretching, because stretching cold muscles can cause injuries. A short walk can help to loosen up the muscles, as can taking a hot shower. Deep stretching is best done after a workout when the muscles are warm and loose. When stretching, it is important to not bounce and to take slow deep breaths in order to relax the body. Stretches are most effective when held for at least 30 seconds each. Stretches for the hamstrings or any other muscle should only be done at a pain-free level.
Types
There are many ways to stretch the hamstrings to improve flexibility. There are standing stretches, seated stretches and exercises that can be done lying on the floor. If the hamstrings are especially tight, yoga straps or towels can be used to ease into the stretch. There are many poses in yoga that work the hamstrings. The "Yoga Journal" website suggests poses including down dog pose, staff pose, and reclining big toe pose to help loosen this area. Yoga also teaches participants to relax the muscles by using deep diaphragmatic breathing. Leraning to relax while stretching can also help to shorten the time it takes to notice changes.
Warning
Stretching that is done too aggressively can actually hinder flexibility and can cause tears, warns the Nicholas Institute of Sports Medicine and Athletic Trauma. To help to avoid complications, only stretch until a gentle pull is felt and back off if the stretch becomes painful. If you stretch after an injury and no improvement is seen in two to three weeks, it is important to seek medical attention, as this could be a sign of a serious tear.