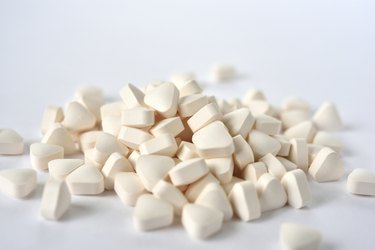 When it comes to choosing the best probiotics for weight loss, it's easy to be overwhelmed by all the available options. Because not all probiotics are created equal, it's important to pay close attention to the label and research the various strains to make sure you're getting what you need.
What are Probiotics?
According to the Mayo Clinic, probiotics are supplements or foods that contain live bacteria that are good for your body. They naturally occur in fermented foods such as sauerkraut, yogurt, kimchi and kefir.
For people who do not like fermented foods or have dairy allergies and cannot consume yogurt, top rated probiotics supplements are available in pill form. They vary greatly in terms of the number and type of strains used. Some require refrigeration, while others are shelf stable.
That said, the probiotics you choose should be based on what you are trying to use them for. The best probiotic for weight loss may not be the same as the best probiotic brand for leaky gut. Women's probiotics are not formulated the same as the best probiotic for men.
The good news is, Harvard Health Publishing says there are probiotics specific to a number of concerns, but there are also products available for general health purposes. No matter what health concern you want to address, you can find something that could work for you.
Top Rated Probiotics
There are a variety of top rated probiotics to choose from. If you're looking for a general health probiotic, consider using something like Culturelle Daily Probiotic. It helps keep the digestive system healthy and does not require refrigeration. It's a vegetarian capsule and is free of gluten, soy, wheat and preservatives, making it one of the best probiotics for men and women alike.
According to a March 2014 meta-analysis in Beneficial Microbes, Lactobacillus gasseri SBT 2055, Lactobacillus rhamnosus ATCC 53103 and the combination of L. rhamnosus ATCC 53102 and Bifidobacterium lactis Bb12 are the best probiotics for weight loss.
Potential Dangers of Probiotics
Certain probiotics such as lactobacillus have been studied more than others. According to Harvard Health Publishing, the theoretical risk of probiotics affects those with weakened immune systems, as they could get sick from using probiotics.
It's also worth noting that according to the National Center for Complementary and Integrative Health, most probiotics are considered dietary supplements rather than drugs. This means the Food and Drug Administration does not monitor how they are manufactured and they may not be as high quality as you think.
Because of this, you should not start taking probiotics until you speak with your doctor or pharmacist about whether or not they may help you. If you have an immune deficiency or are receiving cancer treatment, you should not use probiotics without your doctor's approval.
Whether you want the best probiotic for men, the best probiotic for weight loss, a probiotic for women's health or general health, it's always best to seek a professional medical opinion before adding a new supplement to your routine.