Aside from the fact that walking on a treadmill is an impact sport, knee pain can be caused by a lack of spinal rotation when striding, over pronation and incline running. Also, the treadmill maintains a steady speed which impedes your body's natural tendency to adjust its pace as necessary. The forced speed of the treadmill can also cause knee pain if forcing the runner to go too fast or too slow. Without sufficient recovery, these stresses can eventually lead to irritation and inflammation to the tendons, ligaments and other tissues connected to this joint.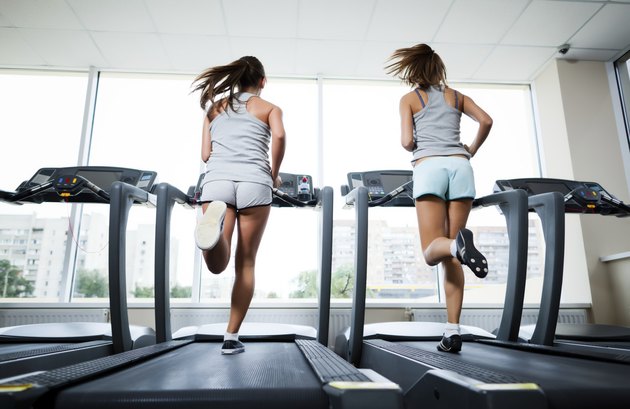 Causes of Knee Pain
Knee pain sometimes stems from "runner's knee," a condition that can arise suddenly and is most common among longtime runners. With runner's knee, the kneecap does not maintain a smooth course on its track, causing discomfort. Alternatively, the pain may stem from using poor form or improper footwear. A physician can best determine the cause of your knee pain and suggest appropriate treatment options.
Self Care
Minor pain often responds favorably to self-care methods. Over-the-counter pain relievers, such as ibuprofen, acetaminophen and naproxen, can relieve inflammation and ease discomfort. You should also rest and elevate the joint as well as apply ice and compression to the affected knee, explains the National Institutes of Health. Sleeping with a pillow underneath the knee may be of some benefit as well.
Treatment
For more serious pain and other symptoms, you may need to talk to a doctor. Medical professionals can administer corticosteroid or hyaluronic acid injections to lessen swelling or better lubricate the joint, respectively. Physical therapy and braces are other potential treatments to strengthen and protect the joint, which can prevent further injury. In more severe cases, you may need surgery to correct the problem.
Prevention
The National Institutes of Health recommend warming up prior to stepping onto the treadmill. Stretching your legs can loosen up your joints, while strength training can add muscle to the legs to better support your knees. The combined effects can minimize the stress place on your knees.
Footwear
You may also want to consider investing in a good pair of running shoes as well as swapping out old pairs for newer ones. Proper arch support distributes the weight evenly across your foot, which may lessen the impact placed on your joints during a run on the treadmill. Consult with a personal trainer or footwear specialist to help determine where most of your impact is placed on the foot, so you can adjust this with proper footwear.