Consuming a diet low in acidic foods does have health benefits. According to a review published in the "Journal of Environmental and Public Health" in 2012, an alkaline diet consisting of fewer acidic foods may help reduce the incidence of chronic disease and premature death common among the aging population. The Clemson University Extension defines low-acid foods as those with a pH greater than 4.6.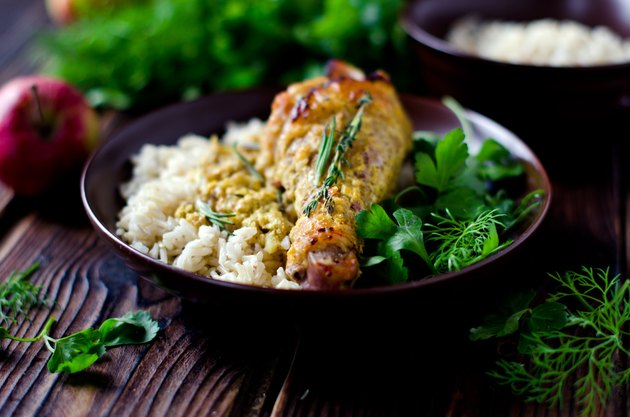 pH Basics
While a pH of 7 is considered neutral, anything below 7 is classified as acidic. This means that the food has a low pH level. On the other hand, any food with a pH above 7 is categorized as alkaline and has a high pH level. A diet consisting of less acidic foods and more alkaline foods is typically higher in fruits and vegetables and is linked to better bone health.
Fruits
Many fruits can be classified as low-acidic foods due to their high pH level. Peaches, apples and orange juice, while still acidic, have a pH of 4.96 or higher, meaning they are low in acidity by Clemson's definition. Bananas, cantaloupe, blackberries, coconut, cranberries, grapes, mangoes, pineapples, raspberries, strawberries and watermelon are among the numerous fruits considered to be alkaline, with a pH over 7.0.
Protein Foods
Clemson University Extension classifies fresh fish as a low-acidic food, with a pH greater than 4.6. Most protein sources, including beef, pork, lamb, chicken and dairy, are very acidic. Certain nuts and seeds, which are also rich in protein, are low in acidity. These are Brazil nuts, cashews, hazelnuts, macadamia nuts, nutmeg, walnuts, almonds, sesame seeds, sunflower seeds, flaxseeds and pumpkin seeds.
Vegetables
Most vegetables are considered to be alkaline foods. Some of the vegetables with a 4.6 pH or higher include artichokes, cabbage, celery, garlic, lettuce, red cabbage, pumpkin, spinach and raw tomatoes. Mildly acidic vegetables include basil, bell peppers, cauliflower, chives, onions, peas, squash and zucchini. Canned vegetables are typically higher in acidity than fresh or frozen vegetables, and you should limit them on a low-acid-foods diet.
Grains
Many grains have a high acidity level. Rye bread, wheat bread, sprouted bread, white biscuits, whole-meal bread and spelt bread are lower in acidity. Avoid corn tortillas, pancakes, sourdough bread and white bread.