Occasionally a chest x-ray or computed tomography (CT) scan will reveal an unexpected abnormality in one or both lungs. Doctors may use terms like spot, lesion, mass or nodule to describe these abnormalities. While cancer is a possibility that everyone fears, most lung spots have other causes, such as infections, noncancerous growths or even blood vessel abnormalities.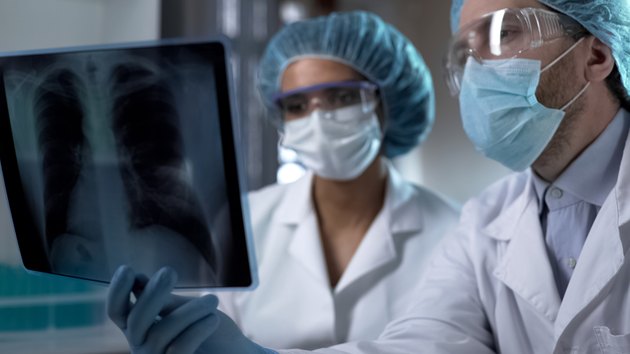 Infections and Granulomas
Infections are one of the most common causes of spots on the lungs. Some spots are caused by current infections, such as pneumonia, while others are due to abnormalities remaining after previous infections. Granulomas are small areas of inflammation that can occur almost anywhere in the body but are frequently found in the lungs. They are usually caused by a past infection but may also be seen with a current infection or even some noninfectious conditions. Tuberculosis and certain fungal infections are frequent causes of lung granulomas. One of the most common noninfectious reasons for lung granulomas is sarcoidosis, a disease of unknown cause that can produce granulomas in multiple organs.
Noncancerous Growths
A variety of noncancerous growths may cause spots on the lungs. They often produce no or minimal symptoms and are detected unexpectedly on x-rays and other imaging studies done for unrelated reasons. Hamartomas, lipomas and fibromas account for most noncancerous lung growths. Hamartomas are disorganized collections of cells that can be found in many different parts of the body, including the lungs. Lung hamartomas are often made of cartilage cells. Lipomas are localized collections of fat cells that grow inside a capsule. Fibromas are accumulations of fibrous tissue, a type of tissue containing fibers made of proteins, such as collagen.
Cancerous Growths
Cancer is the most serious and potentially life-threatening cause of spots on the lungs. The cancer may begin in a lung or it may spread to one or both lungs from another location in the body. Treatment and survival after being diagnosed with lung cancer vary greatly. A single, small cancer that originated in a lung and has not yet spread elsewhere may be very treatable. Multiple, large growths in both lungs arising from cancer that spread from another body region are more difficult to treat.
Other Causes and Next Steps
A variety of other conditions may also cause spots on the lungs, including blood vessel abnormalities or autoimmune diseases like rheumatoid arthritis. Some are harmless while others are very serious.
Radiologists frequently comment on the appearance of lung spots to help your doctor make decisions about the need for further investigations. At times, the radiologist will indicate that a spot looks like it is due to an insignificant condition that requires no further testing, such as scar tissue from a previous infection. In other instances, the radiologist may recommend additional investigations to determine the exact cause, such as blood tests, other imaging tests or a biopsy. Your doctor will also use other factors to determine whether you need further testing, such as whether you have symptoms, are a past or current smoker or have been exposed to certain infectious diseases or toxic substances. Past or current medical conditions, such as cancer or autoimmune diseases, will also be considered.
Reviewed by Mary D. Daley, MD.