McDonald's, according to the company website, serves more than 60 million people in 117 countries every day. The well-known fast-food chain has a menu that offers a variety of foods such as burgers, fries, chicken nuggets, shakes and salads, all at a value price. One of its most popular burgers is the Big Mac, featuring the famous Big Mac sauce. The Big Mac, which debuted nationally in 1967, is so popular it even has its own museum restaurant in North Huntingdon, Pennsylvania.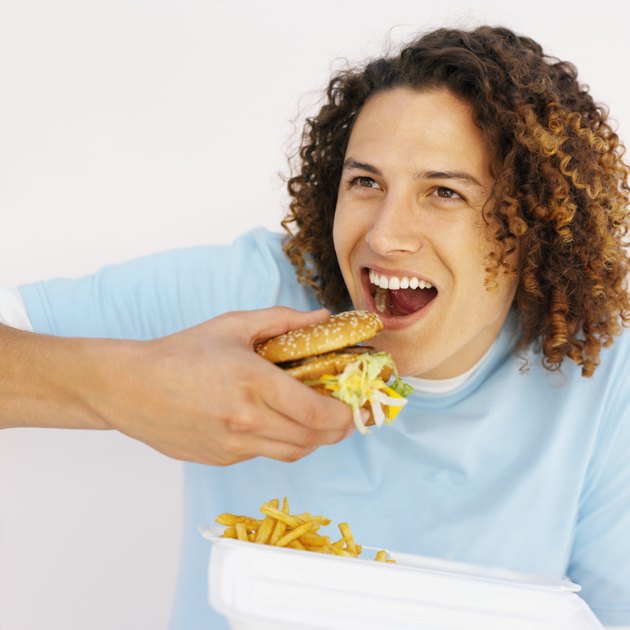 Ingredients
The ingredients in a Big Mac are two all-beef patties, one slice of American cheese, Big Mac sauce, lettuce, pickles, onions and a three-part sesame seed bun.
Calories
One Big Mac contains 540 calories. Carbohydrates provide 164 calories, fat accounts for 260 calories and 104 calories come from protein. The calories in a Big Mac are 28 percent of your recommended daily value, or DV, based on a 2,000 calorie a day diet.
Fat
A Big Mac is very high in fat, containing 29 g of total fat. This includes 10 g of saturated fat and 7.6 g of unsaturated fat. The fat in a Big Mac accounts for 45 percent of your DV for total fats and 50 percent of DV for saturated fats, based on a 2,000 calorie a day diet. According to the American Heart Association, trans fats raise your bad cholesterol levels and lower your good cholesterol levels. It is recommended you limit your trans fats to less than 2 g per day. One Big Mac contains 1.5 g of trans fat, leaving little room for you to eat other foods containing trans fats for the day.
Sodium and Cholesterol
According to McDonald's, a Big Mac has 1,040 mg of sodium, providing 43 percent of your DV of sodium, based on a 2,000 calorie a day diet. A Big Mac contains 75 mg of cholesterol, which is 25 percent of the DV for cholesterol.
Protein and Carbohydrates
Containing 25 g of protein, a Big Mac provides 50 percent of your DV for protein. When it comes to carbohydrates, a Big Mac contains 12 percent of your recommended DV, having 37 g of it. This includes 3 g of dietary fiber and 8 g of sugar.