Symptoms of bronchial congestion include difficulty breathing, a phlegmy or productive cough and tightness in the chest. Generally, this condition indicates a problem with the lungs and bronchial pathways -- whether it be a disease or acute illness. Depending on the length and severity of the congestion, patients may want to seek medical attention, especially if breathing becomes exceptionally difficult. Bronchial congestion usually accompanies a variety of symptoms, which can indicate its cause.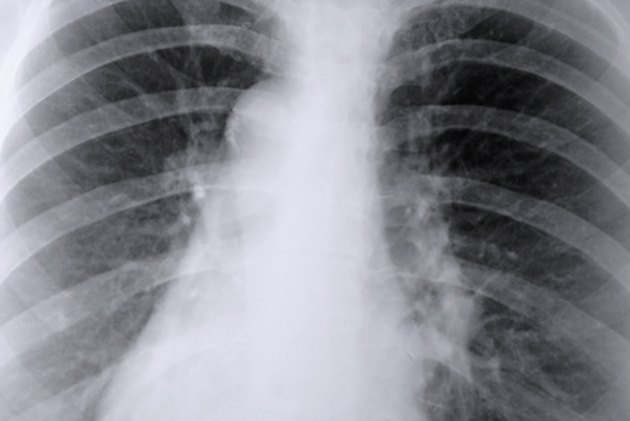 Acute Bronchitis
In most instances, the emergence of bronchial congestion indicates acute bronchitis. FamilyDoctor.org defines this condition as an infection of the bronchial tree, which carries air into the lungs. It lasts a relatively short time -- approximately three weeks or less. Accompanying symptoms include a sore throat, fever, a cough that brings up clear, yellow or green mucus, shortness of breath, wheezing, chills and body aches. The usual cause is a virus, which can travel throughout the body and end in the lungs. However, secondary bacterial infections may occur, which requires a course of antibiotics. Purely viral infections, however, will not benefit from antibiotics.
Asthma
The sudden onset of bronchial congestion may indicate an underlying lung condition called asthma. As a chronic respiratory disease, asthma causes the bronchial passages to quickly constrict upon exposure to an environmental irritant such as allergens, chemicals or exercise. MayoClinic.com states that asthmatics have naturally sore and sensitive bronchial airways, which can over-produce mucus during an asthma attack leading to congestion. In tandem with bronchial congestion, asthma sufferers may also experience excessive wheezing, chest tightness and pain, and shortness of breath. Using a fast-acting bronchodilator and a long-term preventative, such as a corticosteroid, can help reduce bronchial congestion immediately and over time.
Cold and Flu
One of the most common causes of bronchial congestion is due to the common cold or flu. Both illnesses are viral infections of the respiratory tract that can congest the bronchial pathways due to the increase in mucus production. During a respiratory infection, the sputum may be mucoid due to pus or secondary bacterial infections, according to an April 1975 article in the "British Medical Journal." General treatment allows the illness to run its course due to its viral nature. Antibiotics are only prescribed during secondary bacterial infections in which sputum appears yellow or green, according to MayoClinic.com. Viral-infected sputum is usually white or brown in color. Both conditions will appear alongside symptoms of body aches, chills and fatigue; however, flu sufferers will usually have a fever over 100 degrees Fahrenheit.