Taking your vitamins can help you round out your diet and ensure that you are taking in all that your body needs. The simple answer to the question of whether vitamins contain calories is not the only question. When it comes to taking vitamins, you need to consider what, when and how much.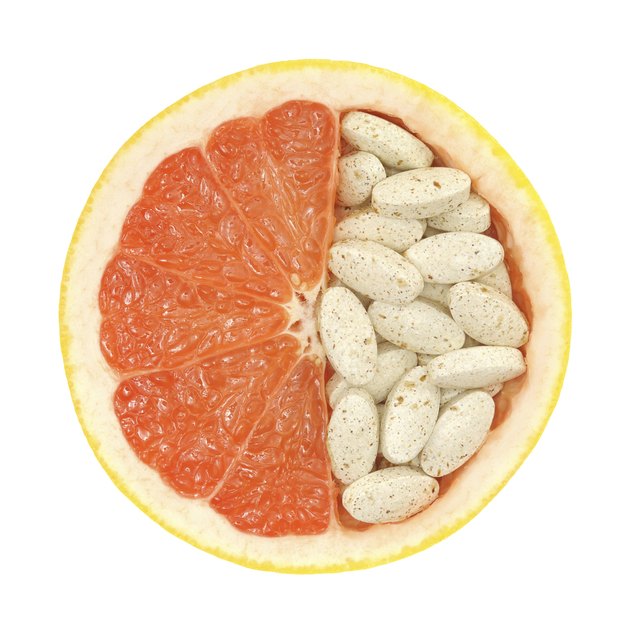 Function
Vitamins do not contain calories or provide energy to your body. Once your body has absorbed vitamins from supplements or food, they are used in multiple body processes, including metabolism of other nutrients and energy production. As explained in the book "Krause's Food and Nutrition Therapy," vitamins, such as cobalamin, are used on the cellular level to help other functions of the body produce energy.
Types
The type of vitamin partly explains why the body doesn't always absorb the majority of vitamin supplements. As noted in the book "Perspectives in Nutrition," vitamins come in two types: water-soluble and fat-soluble. Fat-soluble vitamins are those that are transported by fats and include vitamins A, D, E and K. Fat-soluble vitamins are better absorbed when taken with meals containing some fat. Water-soluble vitamins are those that dissolve in water. Water-soluble vitamins include the B vitamins and vitamin C and require water to be transported to the site of metabolism.
Misconceptions
It is a common misconception that if taking a little helps to improve symptoms of various conditions, then taking more will result in greater improvement. However, this is not the case when it comes to taking vitamins. As noted "Krause's Food and Nutrition Therapy," the body can only absorb and use a certain amount of the vitamins consumed. In addition, the body does not absorb man-made vitamin supplements as easily as vitamins present in foods. It's also for this reason that vitamin supplements should not be used as a replacement for food.
Benefits
Taking vitamin supplements, whether as a pill or beverage, have benefits for different individuals. For example, as mentioned in "Krause's Food and Nutrition Therapy," vegans are at risk of vitamin B-12 deficiency and can benefit from B-12 supplements. Also, dads who are concerned about the picky eaters in the family can give their kids vitamin supplements and gain peace of mind that they are getting an adequate diet.
Warning
Any vitamins you are taking should be reported to your doctor if you are on medication, according to "Krause's Food and Nutrition Therapy." Vitamins can interact with medications, which can cause the prescription to be ineffective or cause other adverse effects. Also, taking excessively large doses of vitamins can result in adverse effects even if you are not on any medications.