Proponents claim that drinking apple cider vinegar, ginger and honey together can help people lose weight and decrease the risk of disease. While there isn't enough evidence to support these claims, drinking this beverage can provide you with antioxidants and potentially improve gastrointestinal distress.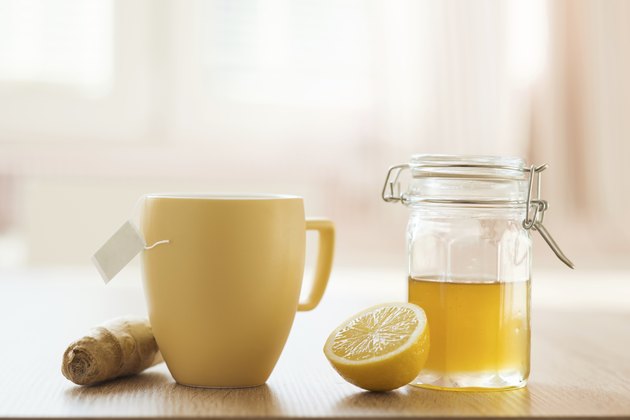 Digestive Comfort
Ginger is known for its ability to ease gastrointestinal distress and has been used in complementary medicine since the 1500s, according to Bastyr University. A 2013 review of the effects of ginger on digestive relief found that ginger may be used as an effective treatment for bloating, indigestion, nausea and vomiting. This may be due to the compounds gingerol and shogaol found in ginger that interact with pathways that induce nausea and vomiting.
Rich in Antioxidants
Honey, ginger and apple cider vinegar contain antioxidants that help to fight harmful molecules in your cells and may protect against chronic diseases like cancer and Alzheimer's. Honey is rich in the antioxidants called phenolic acids, which come from the pollen and nectar in the plants that the bees visit. Choose darker-colored honey because it tends to have more antioxidants than light-colored honey. Ginger also contains antioxidants such as gingerols and shogaols, and apple cider vinegar contains phenolic acids.
Making the Drink
First, peel the thin skin off of a piece of fresh ginger using a vegetable peeler or by scraping it with the side of a spoon. Add the peeled piece of ginger to hot water. Stir in honey and apple cider vinegar, and let it steep a few minutes before drinking. Consider adding other ingredients like a sprinkle of cayenne or a squeeze of fresh lemon juice to your drink for extra flavor and nutrients.
Considerations and Warnings
Ginger may increase the risk of bleeding, so check with your doctor before consuming large amounts if you are taking any blood-thinning medications. Honey still counts as added sugar and has 68 calories per tablespoon, compared to 49 calories per tablespoon for white, granulated sugar. Honey can contain botulism spores and should not be given to infants under 1 year of age since their immune systems are not fully developed.