Your body begins to repair itself almost immediately after you quit smoking. According to the CDC, your heart rate drops within 20 minutes of smoking your last cigarette, and your lung function begins to improve within 3 months of quitting. If you remain a nonsmoker for 10 years, your risk of developing lung cancer will be half that of a smoker, the CDC reports. As your lungs undergo the process of repairing themselves, you can enhance this transformation by eating healthy foods.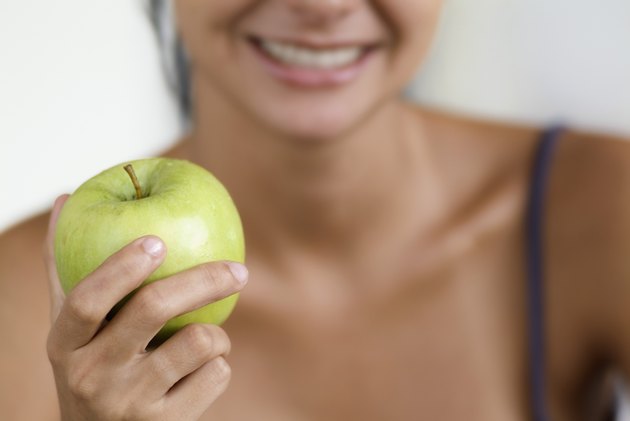 Flavonoids
Foods containing the flavonoids catechin, epicatechin, quercetin and kaempferol have antioxidant and anti-inflammatory features that may be helpful to lung protection in smokers and ex-smokers. Flavonoids are plant pigments that may protect against lung cancer by arresting the growth of cancer cells and combating the DNA damage done by smoking. Foods containing catechins include strawberries, green tea and black tea, and foods containing kaempferols include brussels sprouts and apples. Quercetin can be found in beans, onions and apples.
Variety of Fruits and Vegetables
According to a study published in "Cancer Epidemiology, Biomarkers & Prevention," consumption of a variety of fruits and vegetables may lower the risk of lung cancer in current smokers. The study used "diet diversity scores" to gauge the variety of fruits and vegetables eaten by 452,187 study participants. The researchers found that separate from the quantity of fruit and vegetable consumption, variety in fruit and vegetable consumption appeared to reduce the risk of lung cancer. Further studies are needed to verify these results.
Vitamin A
Foods that are abundant in vitamin A may reduce your risk of developing lung diseases like emphysema. The website Natural Remedies Cures cites a study led by Richard Baybutt at Kansas State University, which found that rats exposed to cigarette smoke demonstrated a deficiency in vitamin A. Baybutt's previous study found that rats fed a diet deficient in vitamin A developed emphysema, a lung condition frequently associated with smoking. Based on the findings of this study, which was published in the "Journal of Nutrition," Baybutt theorized that benzyopyrene, a carcinogen in cigarettes, may cause a vitamin A deficiency. Foods like papaya, collard greens and cantaloupe are high in collard greens.