Hookah is a flavored tobacco that is smoked through a water pipe. It has become increasingly popular, especially among young people -- at home or at hookah bars and cafes. Potential long-term health problems from smoking hookah are more harmful than immediate reactions, but some effects can occur immediately.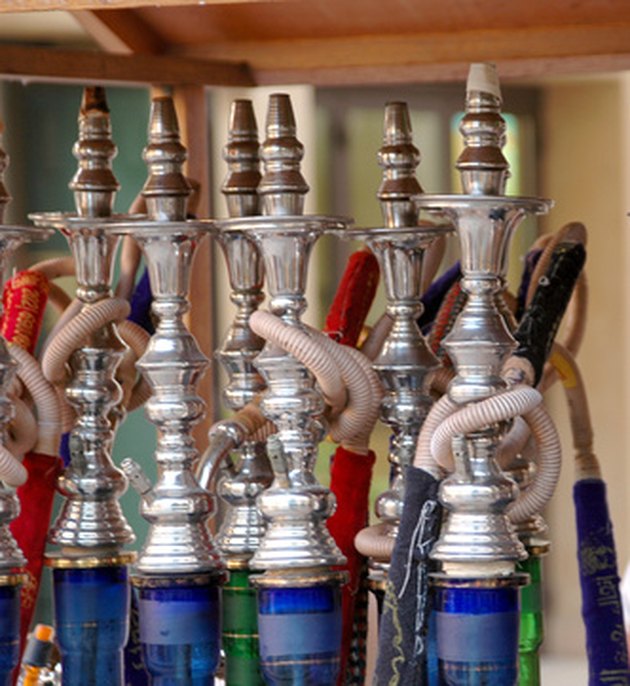 Features
Hookah is smoked through an oversized pipe. The water in the pipe helps to cool the smoke, though it does not eliminate all of the tobacco in the bowl. When the smoker inhales, though, the smoke passes through water before inhalation and can subsequently be held in the lungs longer. The tobacco is usually flavored, and the flavorings can make the activity seem more appealing. Smoking hookah is possibly more dangerous than smoking cigarettes, and the World Health Organization says that in one smoking session, the average hookah smoker can inhale the equivalent of roughly 100 cigarettes.
Lightheadedness and Dehydration
Potential lightheadedness can take place during an experience smoking hookah, or shortly after. The American Lung Association says that this typically happens because smoking hookah can be a pleasant experience, and individuals who are trying hookah for the first time may end up inhaling too much. Another factor is dehydration, which can occur if the individual hasn't been drinking enough water prior to smoking hookah.
Nausea and Coughing
The American Lung Association lists more than 20 possible flavors of hookah, which makes it possible that individuals will have different reactions to flavors -- and some flavors may not sit well with the hookah smoker. Inhaling too sharply can lead to coughing or spitting up tobacco, and coughing can also occur if someone else blows smoke in your face. The World Health Organization explains that cigarette smokers tend to smoke until they satisfy their need and know when to stop to avoid nausea. Water pipes for hookah use contain less nicotine, though, which may cause an individual to smoke more and not know when to stop. This may lead to a stomachache or nausea.
Unique Experiences
Hookah can be appealing because it gives users the opportunity to try new flavors. It can leave a good taste in the mouth. Individuals may enjoy adding their own products as well. The American Lung Association says that more experienced hookah smokers may add ice, fruit juice, milk or wine to the water in the pipe to change the taste, texture or effect of the smoke. The American Lung Association mentions apple, coconut, mango, mint and strawberry as possible flavors. The association also notes that sweetened tobacco can provide a good smoking and post-smoking experience because of the pleasant smells and tastes.
Harmful Effects
Sharing the same pipe as someone else can spread sickness and disease. The American Lung Association lists lung cancer, heart disease and reduced fertility as just a few of the long-term harmful effects of hookah smoking. Hookah smoke also carries the danger of secondhand smoke, which can affect an individual immediately. Addiction is a long-term effect of smoking hookah. The World Health Organization explains that the water in the hookah pipe can absorb some of the nicotine from the tobacco, but not all of it, so the nicotine that smokers absorb can still lead to serious addiction and other long-term health problems.
Considerations
The Mayo Clinic stresses that hookah smoking is not safer than cigarette smoking, and that the tobacco in the water pipe is no less toxic. Hookah does not serve as a healthy alternative to other nicotine products. It can be easy to get addicted to smoking hookah. The long-term consequences of smoking hookah should be kept in mind, but the more unpleasant immediate side effects such as coughing, nausea, and lightheadedness are usually only temporary.