Hypothyroidism is a condition of an underactive thyroid gland that produces little or no thyroid hormone. Your thyroid hormones play a large role in the regulation of your metabolism and the support of a variety of other bodily functions. Hypothyroidism may be present at birth, or your thyroid gland may be damaged due to surgery, infections, medications or certain medical conditions. Synthetic or manmade thyroid hormone treatment is generally successful and important in preventing the wide variety of physical and mental dangers of hypothyroidism.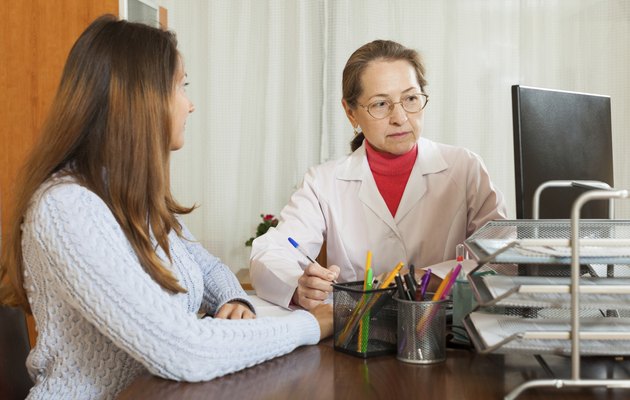 Symptoms
Deficiencies in thyroid hormones may lead to a variety of metabolically related symptoms. Symptoms vary based upon the amount of hormone produced as well as how long your body has been deprived of thyroid hormones. Symptoms include fatigue and tiring easily, feeling cold, pale and dry skin, weight gain, muscle cramps, constipation and feelings of depression, according to MayoClinic.com.
Goiter
Your pituitary gland secretes a hormone called thyroid-stimulating hormone, or TSH, which binds to and stimulates the thyroid gland to release thyroid hormones. When thyroid hormone levels in your blood are low, TSH is secreted. Too much TSH in your thyroid gland causes the gland to become enlarged, a condition known as goiter. This may cause swelling of your neck in the region of the thyroid gland, leading to breathing and swallowing difficulties.
Heart Problems
Hypothyroidism may negatively affect your heart through several different mechanisms. It can increase total cholesterol levels and low-density lipoprotein, or "bad" cholesterol, in the blood. Both of these conditions increase your risk of heart disease. Hypothyroidism affects heart muscle contraction, decreases heart-pumping capabilities, stiffens blood vessel walls and slows heart rate. All of these increase the risk of high blood pressure and heart failure.
Myxedema
Myxedema is rare, but it is a serious and life-threatening condition caused by long-term, untreated hypothyroidism. You should seek medical attention immediately to prevent serious complications or death. Symptoms include low body temperature, reduced heart rate, delirium, seizures and eventual coma. Certain medications or extreme stress to the body, such as infections or surgery, increase the risk of developing myxedema, according to the University of Maryland Medical Center.
Infertility and Birth Defects
Pregnant women with hypothyroidism have a fourfold risk of a having a miscarriage, and babies born to these women have an increased risk of birth defects, according to the University of Maryland Medical Center. Infertility is also a risk in women with hypothyroidism due to ovulation and menstrual cycle changes.
Infants and Children
Infants born with an underactive thyroid are at an increased risk of developing severe mental and physical impairments, including mental retardation and stunted growth. Hypothyroidism developing during childhood may lead to poor growth, delayed puberty and delayed teeth development, according to MayoClinic.com. If detected and treated in time, severe developmental damage may be prevented, but mild impairments may persist throughout life.