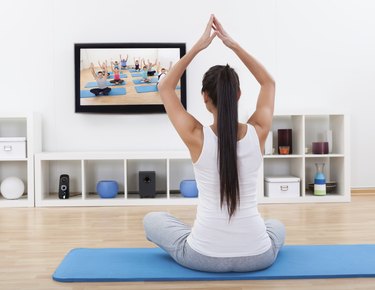 Yoga emphasizes mind-body awareness through physical postures, breathing exericises and mental practices. Weight loss with yoga is highly dependent on the type of classes you take and the other cardio exercise you do. Fox News states that you may burn about 161 calories per hour in a gentle Hatha yoga class versus 432 calories in an hour-long Power yoga class. For weight loss, practice an intensive yoga routine with one of the best yoga DVDs three to five times per week, and supplement with cardio exercise such as running or biking an equal amount of time.
Build Muscle With Yoga
Look for yoga DVDs that build muscle and focus on core strength for a lean physique. "Yogaworks for Everybody -- Fit Abs" focuses on cardio to increase the heart rate and burn calories for weight loss. The 40-minute DVD incorporates flows, arm-strengthening postures and a bonus 10-minute abdominal segment if you have extra time for another round of core work. Building muscle will not only give you a sculpted physique, but muscle also has a higher metabolic rate than fat, meaning you will burn more calories even while at rest. "Yoga for Core Strength" from "Yoga Journal" also tones the abdominals through a series of backbends, twists and standing poses.
Focus on Flow
Vinyasa is a type of yoga that incorporates a lot of flows, meaning moving from one posture to the next dynamically rather than just holding a series of static postures. The constant movement keeps your heart rate elevated to burn calories for weight loss. Challenge yourself with "More" magazine's recommendation for "Shiva Rea's Yogini Vinyasa Flow for Women." The 75-minute routine also focuses on loving your body which can encourage calmness and awareness, helping you make healthier dietary choices. Yoga DVDs also recommends "Baron Baptiste's Foundations of Power Vinyasa Yoga" to prevent boredom and bring some soul into your practice.
A Fitness-Training Approach
Jillian Michaels, the famous trainer from the TV show "The Biggest Loser," is well known for her hardcore weight-loss strategies. Her yoga DVD, "Jillian Michaels Yoga Meltdown," is no exception to her usual intensive strategy as she puts you through two sweaty 30-minute yoga routines that will amp up caloric burn while building muscle. The DVD offers two routine variations suitable for those just starting out as well as more experienced practitioners. Other fat-burning programs recommended by Yoga DVDs that have a fitness-training edge include "P90X's Yoga X" and "Yoga Burn" with Rodney Yee.
Add Intervals
Interval training has you alternating harder periods of exercise with lighter recovery periods. It revs up the metabolism to increase fat burn and can also extend the amount of time you work at a hard effort level. Yogaworks "Body Slim" incorporates a fat-burning yoga workout that will leave your muscles shaking. Modifications are offered for all poses, so don't shy away before you even attempt to try it. Other DVDs that will keep your heart rate up include "The Biggest Loser: The Workout: Weight Loss Yoga," a routine that varies between between ab work, arm balances and leg sculpting moves.