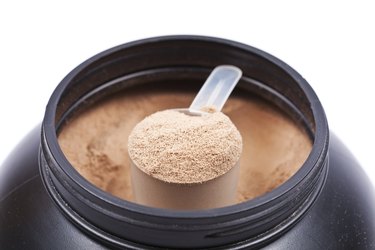 What you do outside of the gym is just as important as what you do when you're working out. If your diet is off, you may notice slower gains. But before you run to the nearest supplement store for a boost, there are some disadvantages of supplements for bodybuilding that you need to know.
Tip
Safety concerns and lack of nutrients are two of the disadvantages of protein supplements.
Disadvantages of Supplements for Bodybuilding
Hitting the weights day in and day out can take a toll on your body, especially if you're trying to build muscle. And if you're not eating enough calories or getting adequate amounts of protein, carbohydrates and healthy fat in your diet, it may take you longer to reach your goals.
When this happens, it can be tempting to turn to protein supplements that promise quick results. While there are some pros to certain supplements, there are also plenty of disadvantages of supplements for bodybuilding. In addition to cost and ingredients, you also need to be aware of any safety concerns associated with using protein supplements.
Even though the FDA has requirements and regulations that state companies need to provide safe and accurate labels with no misleading claims, you're still placing your trust in their advertising, which can be considered a disadvantage.
For example, Harvard Health Publishing shed light on a paper from the Clean Label Project that discussed the toxins found in protein powder. Based on research they conducted, the group found that several protein powders contain heavy metal, pesticides or other contaminants.
Whole Food Advantage
Safety and product labeling are two disadvantages of supplements for bodybuilding. But you should also consider what's inside the container and whether or not there are advantages to protein powder.
A September 2017 review published in the Journal of Dietary Supplements said that the few studies that do exist on the pros and cons of protein supplementation either provide insufficient evidence or have not employed proper conditions for the conduct of the tests. However, the authors do point out that since protein supplements are processed materials, they lack other essential nutrients required for a healthy lifestyle.
It's this lack of other essential nutrients that prompts many experts to recommend whole foods over supplements. The Cleveland Clinic says that while you can meet your protein requirements via a protein shake or whole food, the protein powder will contain fewer nutrients than the whole food protein source. With that in mind, getting the majority of your protein through food sources should be something you work toward.
Lean cuts of beef, chicken and turkey

Fish such as salmon, cod and shrimp

Dairy options and eggs such as yogurt, low-fat milk, cheese and cottage cheese

Legumes like beans and lentils

Nuts and seeds such as walnuts, almonds, chia seeds and pumpkin seeds
How Much Protein Is Enough?
Knowing the recommended amount of protein you need each day can help you make informed decisions about whether you need protein supplements to meet your goals. According to the Dietary Guidelines for Americans, a 31- to 50-year-old female who eats 1,800 calories a day needs approximately 46 grams of protein per day. And a male of the same age needs about 56 grams of protein per day, assuming they are eating 2,400 calories a day.
If you're not sure how to calculate your protein needs, you can follow the recommended dietary allowance for an average adult, which is 0.37 grams per pound of body weight, according to the Academy of Nutrition and Dietetics. But if your goal is to pack on size for bodybuilding, the recommended allowance may not be enough, according to the American College of Sports Medicine (ACSM).
They state that if you lift weights regularly and want to increase muscle mass in combination with physical activity, you should eat a range of 0.5 to 0.8 grams of protein per pound of body weight. Like many other sources, the ACSM also says you can meet your protein needs through a balanced diet that does not require additional supplementation.
Was this article helpful?
Thank you for your feedback!