Protein supplements are popular with people looking to build muscle and lose weight, as well as those wanting to lose body fat. Shakes can be useful if you want to get an extra protein hit and top up your intake when food isn't available. On the other hand, there are also certain disadvantages of protein supplements, and they certainly aren't a necessity, regardless of your goals.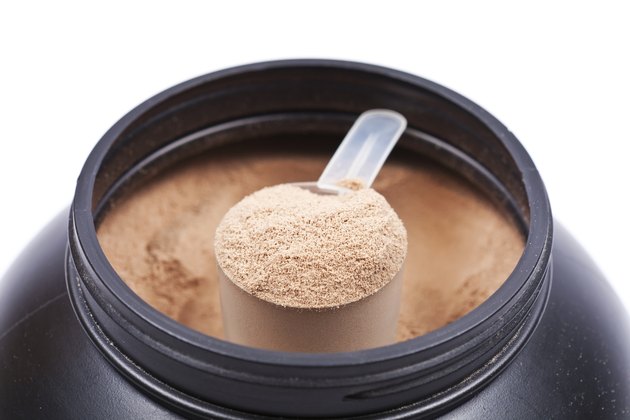 More Is Not Better
Protein is required for growth and repair of cells, which is vital when building muscle mass. Most people get enough protein, though, according to the Physicians Committee for Responsible Medicine. The average person should get around 0.36 grams of protein per pound of body weight each day, and while athletes and bodybuilders require a little more, you should be able to get the protein you need from food, which means that you shouldn't even have to take protein supplements.
Hidden Calories
Some protein supplements are relatively low in calories, containing minimal amounts of carbs and fat; they are similar in calories to a can of tuna or a chicken breast. Other protein supplements have hidden calories, however, which can cause you to gain weight. Watch out for protein powders that are higher in calories, warns the Ferris360 website. If your protein powder has more than 150 calories or 3 grams of sugar per serving, it could be doing you more harm than good.
The Cost Factor
Using food to boost your protein intake is often far cheaper than supplementing, according to the McKinley Health Center at the University of Illinois. The center reports that a serving of protein powder can cost anywhere between $0.94 and $2.69, meaning you could be getting a good deal with some types or brands, and paying through the nose with others. Protein supplements are cheaper when you buy them in bulk, but that can mean paying out a lot of money at one time.
Getting Heavy
A high intake of protein supplements -- around three servings per day -- could result in a high exposure to heavy metals, according to an article on the Sports Dietitians Australia website. This is probably due to cross-contamination in the manufacturing process. If you're getting protein from shakes, limit your servings to one to two a day, and include protein from whole-food sources, such as meat, fish, dairy and beans.