Scientifically known as Raphanus sativus L. var. niger, Spanish black radish is a member of the Cruciferae family, along with Brussel sprouts, spinach, kale and cabbage. It can be enjoyed raw or cooked, but its strong, peppery flavor can be neutralized by cooking or peeling for those with more sensitive palates. Eat Spanish black radish for its wealth of nutrients and some more specific health benefits.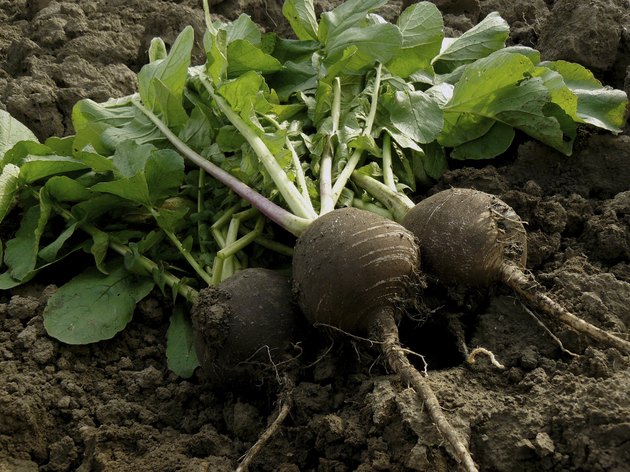 Helps Treat Gallstones and Elevated Cholesterol
A study published in a 2012 issue of "Journal of Biomedicine and Biotechnology" investigated the effects of juice extracted from black radish root on gallstones and blood lipids in mice. The mice were fed a lithogenic diet that encourages the formation of gallstones, increases cholesterol and triglyceride levels and decreases healthy, high-density lipoprotein, or HDL, cholesterol levels. After treatment with black radish root juice for six days, the mice showed fewer cholesterol gallstones, reduced cholesterol and triglyceride levels and increased HDL cholesterol levels. The study concluded that Spanish black radish shows promise in treating cholesterol gallstones and lowering blood lipid levels.
Promotes Detoxification
Spanish black radish is a rich source of phytochemicals called glucosinolates. When radish is chewed, myrosinase -- an enzyme present in the root vegetable -- degrades the glucosinolates into products such as isothiocyanates, which are associated with health promotion. A study reported in the "Journal of Agricultural and Food Chemistry" in 2007 found that aqueous extracts of Spanish black radish and isothiocyanate compounds induced detoxification enzymes in human liver cancer cell lines. The results indicated that consumption of cruciferous vegetables, such as Spanish black radish, may reduce the risk of cancer through the induction of detoxification enzymes.
Protects Against Bone Marrow Toxicity
A study published in the journal "Nutrition and Cancer" in 2012 examined the protective effects of Spanish black radish on bone marrow cells against a toxin. Researchers divided mice into two groups -- one group was fed a diet containing Spanish black radish, and the other group was fed a control diet regularly for two weeks. A significant increase in the detoxification enzyme activity was observed in the former group. Both groups were exposed to a toxin that targets bone marrow cells. Researchers noted that the concentration of toxin in the blood of mice consuming the Spanish black radish diet was significantly lower than the mice eating the control diet. In addition, the toxin reduced bone marrow cells to a greater extent in mice fed with a control diet than in mice fed with Spanish black radish. Researchers concluded that black radish owes its protective effects to the presence of glucosinolates.
Improves Intestinal Health
A study published in the journal "Phytotherapy Research" in November 2002 studied the effect of Spanish black radish root on the colon mucosa -- the innermost layer of the intestine -- in rats fed a high-fat diet. After eating a fat-rich diet, rats showed disrupted epithelial lining, a decreased number of enterocytes and goblet cells and increased inflammation. Enterocytes are epithelial cells that absorb nutrients from the digestive tract, while goblet cells secrete mucus, which facilitates the passage of dry waste materials. After treatment with black radish root, researchers observed an increase in the number of goblet cells, an improvement in the structure of the epithelial cells and no inflammation.