With only a few exceptions, such as white asparagus and brussels sprouts, most vegetables are alkaline, meaning they help alkalize the body. This helps keep your body's pH at a healthy level. Eating plenty of alkaline foods like vegetables also helps limit consumption of foods that are acid-forming, which can cause health problems.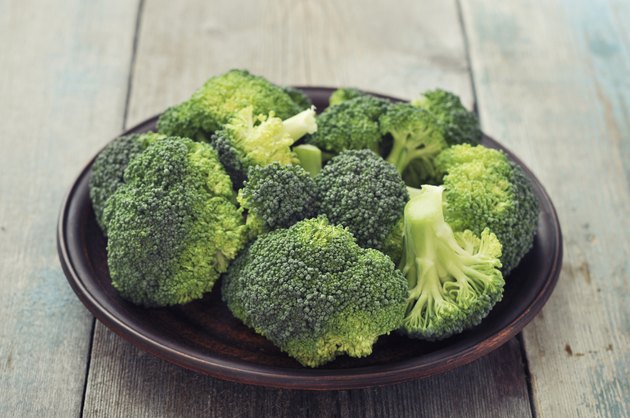 Acid-Alkaline Balance
It's not a food's acidic taste that matters when it comes to acid or alkaline content. Rather, it's the mineral content and pH level of the food, says naturopathic physician Christopher Vasey. The body needs both acid- and alkaline-forming foods to stay in balance, but its needs lean toward the alkaline side. Aiming to eat about 80 percent alkaline-forming foods like vegetables can help you avoid potential health issues like bone loss, fatigue and muscle pain.
Greens and Green Vegetables
When aiming for an alkaline diet, dark leafy greens and most green vegetables are great choices. Kale, collards, chard, lettuce, spinach, arugula and all other leafy greens qualify. Other alkaline green vegetable choices include broccoli and broccoli rabe, green peppers, zucchini, celery, artichokes and cucumbers. Brussels sprouts are a rare exception in the vegetable family, with more acid-forming qualities than other vegetables. Green asparagus is an alkaline vegetable, but white asparagus is more acid-forming.
Other Assorted Veggies
Many root vegetables also have alkalizing effects. These include beets, carrots, garlic, horseradish, onions, leeks, turnips, parsnips, radishes and potatoes. Edible green tops that accompany many root vegetables -- for example, carrot tops -- are also on the list. Numerous other vegetables are alkaline, including the numerous varieties of available mushrooms, bamboo shoots, watercress, cauliflower, okra, sweet and hot peppers, eggplant, pumpkins and other squashlike vegetables. Herbs like dill and chives, along with seaweeds like dulse, qualify too.
Beans and Other Legumes
Beans and other legumes are also part of the vegetable family, and they contain both acid and alkaline foods. The University of California, San Diego's, acid-alkaline food chart indicates all or most beans and other legumes are acid-forming. The American College of Healthcare Science's acid-alkaline food chart also mentions peanuts, lentils and garbanzo beans, also known as chick peas, as acid-forming. There are a few alkaline legumes, including green beans, lima beans, soy beans and peas.