Sulfur, a mineral vital to your health, is found in all body tissues and plays several important roles in your body. According to Phyllis A. Balch, author of "Prescription for Nutritional Healing," it helps resist bacteria and protects against toxic substances. In addition, sulfur is necessary for proper development of connective tissue and helps skin maintain structural integrity. Identifying sulfur-rich foods can help you make choices that ensure you get sufficient intake of sulfur.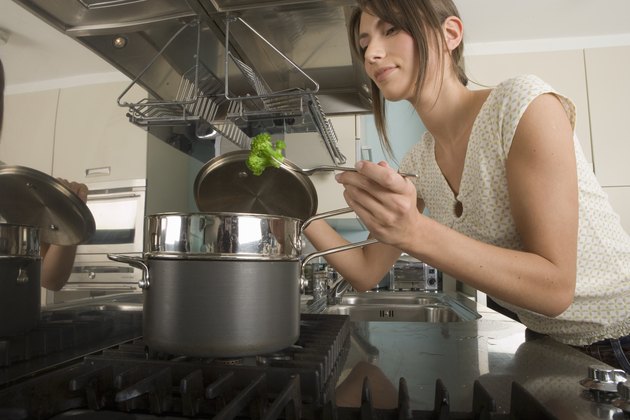 Cruciferous Vegetables
Cruciferous vegetables, such as broccoli, cauliflower, cabbage, kale, Brussels sprouts, turnips, bok choy and kohlrabi, are rich sources of sulfur-containing substances known as glucosinolates, which impart a pungent aroma and slightly bitter taste. During food preparation, chewing and digestion, glucosinolates break down into compounds known as indoles and isothiocyanates, which are being studied for possible anti-cancer effects, according to the National Cancer Institute.
Protein Foods
Protein-rich foods, such as fish, poultry, meats, nuts and legumes, are not only essential for building and maintaining healthy skin, hair and nails, but also are good dietary sources of sulfur. Cysteine and methionine -- two sulfur-containing amino acids in these foods -- serve as key sources of sulfur for your body's cells. While the majority of amino acid sulfur is needed for making protein, it also serves as a cofactor for certain enzymes, which are substances that help bring about chemical reactions.
Allium Vegetables
Allium vegetables, such as garlic, onions, leeks and chives, contain organosulfur compounds -- organic compounds that contain sulfur. An article published in "Environmental Health Perspectives" in September 2001 noted that the presence of organosulfur compounds in these foods appears to inhibit the formation of cancer in the esophagus, colon, forestomach, mammary glandsand lungs of experimental animals. The study suggests that allium vegetables and organosulfur compounds are possible cancer-preventative agents for humans, although further clinical trials are required.
Eggs
Eggs are not only a rich source of protein, they're high in sulfur, with the white, or albumen, containing the majority. Each egg yolk contains 0.016 milligram of sulfur, and the white contains 0.195 milligram, according to B. Srilakshmi, author of "Food Science." Egg yolks contain dietary cholesterol, however, which has been linked to increased blood cholesterol levels. University of Michigan Health System recommends limiting egg consumption to one per day, with the exception of people with high cholesterol who should eat no more than four eggs per week.