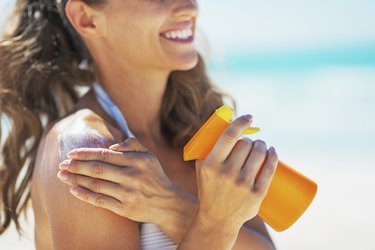 Neutrogena and Oil of Olay are two longstanding, well-known skincare companies. Although many of the products they offer are very similar, Olay's skincare lines are mostly focused on anti-aging and may appeal to older consumers, while Neutrogena offers more general products targeted to various age groups. The only way to find out which brand is best suited to you is through trial and error—some products work great for some and not so well for others.
Acne Products
Neutrogena offers dozens of products to treat and prevent acne. Cleansers that contain acne-fighting ingredients like salicylic acid are available in gel, cream, foam and scrub varieties. Also available are spot treatments for blemishes and blackheads, body washes for body acne, complete acne-care systems and makeup that helps fight acne. Oil of Olay's product line is less focused on acne, with only one acne-fighting cleanser offered and no spot treatments or other acne control products.
Anti-Aging Products
Both Neutrogena and Oil of Olay offer extensive lines of products that claim to fight the visible signs of aging. Neutrogena offers moisturizers, serums, peels and treatment lines such as Ageless Essentials, Healthy Defense and Visibly Firm. Oil of Olay has several anti-aging product lines that focus on different aspects of aging, for example: Regenerist for cell regeneration, Definity for skin tone correction and Total Effects for overall anti-aging. MayoClinic.com recommends using anti-aging products containing retinol, hydroxy acids, coenzyme Q10, copper peptides, kinetin or tea extracts for the best results.
Moisturizers
Dry skin can be caused by your outdoor or indoor environment, genetics, overwashing or aging. Both Neutrogena and Oil of Olay offer facial moisturizing products. All of Oil of Olay's moisturizers are offered under its four anti-aging skin care lines: Olay Professional, Regenerist, Definity and Total Effects. Within those lines, there are more than 50 moisturizing creams, all focusing on combinations of different aging aspects. Neutrogena has several dozen moisturizers as well, some of which are anti-aging. No matter which brand you choose, using a daily moisturizer with sunscreen will help protect your face from harmful UV rays.
Body Products
In addition to products for the face, both companies offer lotions and cleansers for the body. Neutrogena has several varieties of body lotion, plus body washes, sunscreen products and sunless tanners. Olay offers lines of moisturizing body washes and lotions, as well as an anti-aging body wash. Some of its lotions contain sunless tanner.
Other
Neutrogena also manufactures cosmetics, shampoos and conditioners and a line of men's facial and hair products. Olay offers several soaps, marketed as "beauty bars," in addition to its anti-aging lines and body lotions and washes.