Calcium and vitamin D are two nutrients that the body uses to keep your bones healthy and strong. Calcium supplements often contain vitamin D because this type of vitamin helps the body absorb calcium more efficiently. If you have low calcium or vitamin D levels, your doctor may recommend treatment with a supplement that contains these nutrients. The side effects of calcium and vitamin D on your stomach may be uncomfortable; you should discuss them with a medical professional if they persist.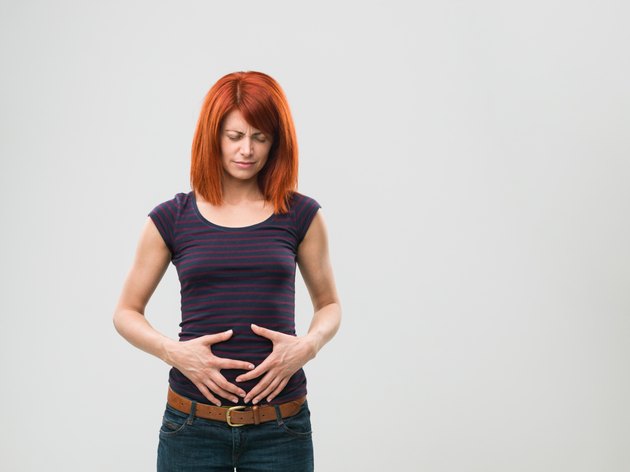 Nausea or Vomiting
Ingesting a calcium and vitamin D supplement may cause irritation along your digestive tract. If this occurs, you may feel nauseous or begin to vomit, Drugs.com warns. Though these stomach-related side effects are typically temporary, they may be unpleasant. Eating a small meal or snack before taking a dose of this nutritional supplement may diminish or prevent stomach upset side effects.
Loss of Appetite
Stomach irritation caused by calcium and vitamin D may result in a temporary decrease in your appetite. You may notice that you consume smaller quantities of food throughout the day or that you do not feel hungry. If such side effects persist, you may experience unintended weight loss.
Constipation
Constipation may occur as a stomach-related side effect of taking a calcium and vitamin D supplement, RxList reports. If you develop constipation, you may have difficulty producing normal bowel movements. Constipation may also exacerbate sensations of nausea or may result in abdominal bloating, pain or cramping. Seek care from your doctor if you experience recurrent or chronic episodes of constipation.