Magnetic resistance exercise bikes use a magnetic field to create resistance. The field is generated by an electrical circuit or by internal batteries and pedaling action. A control panel is used to adjust resistance by altering the intensity of the magnetic field. Most upright exercise bikes have a magnetic unit that interacts with the metallic surface on the flywheel to provide the positive and negative poles. Chain drive recumbent exercise bikes have sensors on the flywheel and pedal cranks that generate magnetic poles. It's advisable to review the warranty conditions before attempting repairs to magnetic resistance exercise bikes.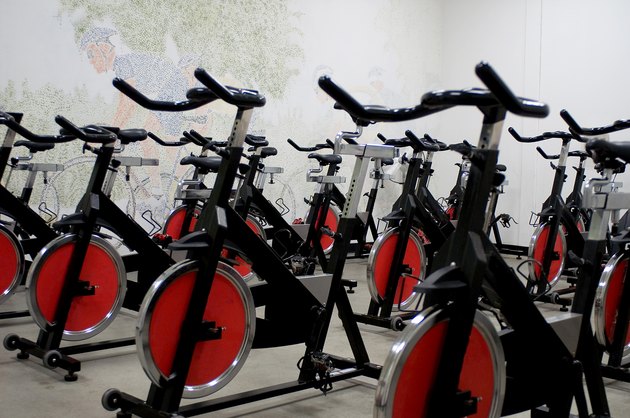 Upright Models
Step 1
Unplug the power cord from the electrical outlet. If the unit is battery powered, begin by replacing the batteries in the display panel and re-test the bike. Use an Allen wrench or Phillips screwdriver to remove the bolts that secure the split flywheel covers.
Step 2
Pull each cover to the side to expose the flywheel. Grip the flywheel and rotate the pedal cranks counterclockwise to unseat them from the internal pulley. Remove the cranks and set them aside. Remove the flywheel covers.
Step 3
Use a socket and ratchet to remove the nut on the pulley. Twist the pulley to the side and slip the V-belt off the pulley and the magnetic unit. Inspect the belt for damage and replace if necessary. Remove the nut that secures the magnetic unit. Remove and replace the magnetic unit.
Step 4
Reinstall the V-belt on to the magnetic unit and pulley. Replace the nut that secures the pulley. Position the flywheel covers on each side of the flywheel. Reattach the pedal cranks by rotating them clockwise as you thread them into the pulley from each side. Reattach the flywheel covers.
Recumbent Models
Step 1
Remove the chain guard using an Allen wrench or Phillips screwdriver to loosen the bolts that secure the guard in place. Set the guard aside. Rotate the flywheel until the hub sensor battery pack is visible.
Step 2
Inspect the insulated wire leads at the connection on the unit. If the leads are intact and not burned it's not necessary to replace the unit. Remove the cap from the battery pack with a screwdriver. Replace the batteries and reattach the cap to the unit.
Step 3
Locate the speed sensor unit near the pedal sprocket. Use a hex wrench to remove the nut that holds the sensor in place. Pull the speed sensor out just enough to access the battery cap on the inside of the unit.
Step 4
Remove the battery cover, install a new battery and replace the cap. Reinstall the speed sensor and reattach the nut that holds it in place. Reattach the chain guard and tighten the bolts that hold it in place.
Things You'll Need
Allen wrench

Phillips screwdriver

Socket and ratchet
Tip
A voltage meter is used to troubleshoot problems with internal electrical circuits.