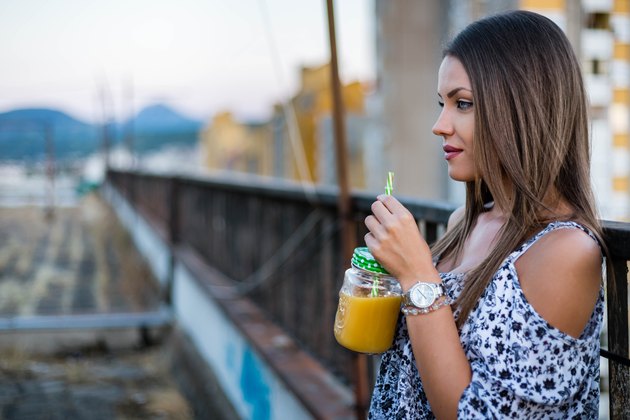 Isagenix Products
Isagenix manufacturers a wide variety of products, including bars, shakes, snacks, supplements and powders, that are designed for specific purposes, such as weight loss or energy. Many of these products are offered in bundles called "paks" or "systems," most notably a 30-day system and a nine-day system.
Shakes
IsaLean shakes come in standard, kosher and dairy-free varieties as well as in a variety of flavors, including chocolate, vanilla chai and strawberry cream. The shakes contain 24 to 36 grams of protein and a balance of carbohydrates, fat and fiber.
Other Beverages
Isagenix's beverages come in both liquid and powder form, depending on the product. Some of the company's most popular include:
Cleanse for Life

Natural Accelerator
Isagenix Supreme
e+ Energy Shot
Isagenix Coffee
AMPED Hydrate
Bars and Snacks
Offerings from Isagenix's include meal-replacement bars, snacks and sweet treats that are fortified with nutrients.
IsaLean Bar: a meal replacement bar with 18 to 19 grams of protein, depending on the flavor

IsaDelight: chocolate that's been fortified with antioxidants and green tea extract
Harvest Thins: vegetarian snacks with 11 grams of pea protein and 100 calories per serving

Supplements
IsaOmega Supreme: mostly omega-3 fatty acids designed to promote heart, joint and brain health

Complete Essentials: a daily multivitamin that is taken in both the morning and evening
IsaPro: whey protein powder that contains 18 grams protein per serving
CytoActives: a supplement that contains the antioxidant resveratrol, CoQ10 and tocotrienols
Boosters: Heart Booster and Immune Booster powders can be added to shakes for extra nutrients
Does Isagenix Work?
Isagenix sponsored a study of its products carried out by the University of Illinois at Chicago in 2012 and found that individuals using Isagenix products successfully lost weight and body fat, according to the clinical summary.
However, Harriet Hall, M.D., on Science-Based Medicine wrote that the products hadn't been subject to clinical testing and the study methodology was not sound.
While there are no other peer-reviewed studies of Isagenix specifically, a number of researchers have studied the impact of meal-replacement diets on weight loss and other health indicators.
In 2017, the British Journal of Nutrition published a study that looked at the effect of high-protein meal replacements on weight and metabolic, lipid and inflammatory panels, finding that using HPMRs can lead to both significant weight loss and improvement in all three parameters. However, other studies have found that evidence linking meal replacements to weight loss is inconclusive.
All in all, weight loss comes down to eating less and moving more. Nothing is a magic potion for losing weight, but if meal replacements can help you eat fewer calories, they could be an aid in shedding pounds — with the caveat that you should still be eating nutritious foods, such as fresh produce and lean protein, at other meals.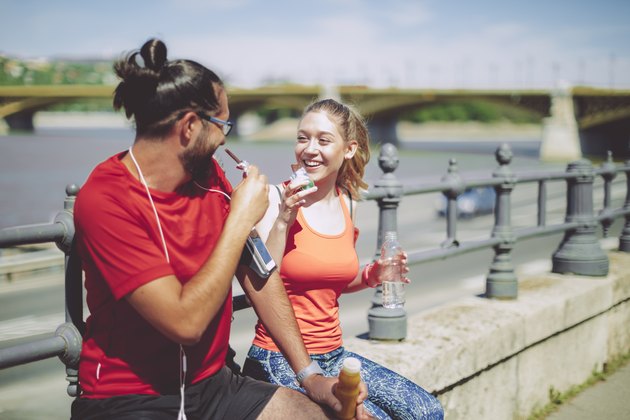 Isagenix Side Effects
A significant drawback to using meal-replacement products like Isagenix is that you don't learn how to eat properly and in moderation. Therefore, there's a risk that you'll regain the weight lost when you return to your regular eating plan.
Additionally, a low-calorie diet — which often occurs on a meal-replacement diet — can lead to decreased nutrient intake, long-term metabolic depression and health risks like gallstones, constipation and fatigue, according to the National Academy of Sports Medicine.
Isagenix Reviews
Reviews on Isagenix products are mixed, with a number of them leaning toward the negative. A review published on HESCA.org gave Isagenix products a 3.8 out of 5, noting they're fairly high in fiber and protein, which can help a person feel full longer, but they're also high in sugar, which is detrimental to weight loss and some health conditions.
Other reviews noted the cost of Isagenix, including one from Diets in Review that determined the price of IsaLean shakes are significantly higher than the average meal-replacement shake. The same review said the lower quality of ingredients in IsaLean means that it may not be worth the cost.
Despite the reviews, health website Diet Insight gives Isagenix a 4 out of 5 for safety. Unless you have sugar problems or other chronic health disorders, it says, the products are safe for short-term use.
What Do YOU Think?
Have you ever used Isagenix or a similar product to lose weight or feel healthier? What is your favorite brand? Do you think-meal replacement shakes or other products are a healthy way to shed pounds? Share your thoughts in the comments.