Swimming benefits your health at any stage of your life. Intense workouts burn calories and improve cardiovascular fitness without the injuries often associated with high-impact exercise such as running. Swimming laps in a pool enables you to keep track of how far and how fast you swim.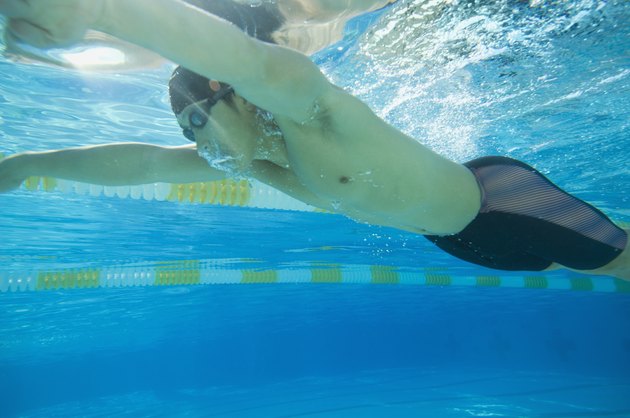 Metabolism
You metabolize food you eat into energy, and calories are a measurement of that energy. According to the National Institutes of Health, you need to burn 3,500 calories to lose 1 lb. of excess weight.
Calories Per Hour
The number of calories you burn in an hour will depend upon your age, weight and exercise intensity. Swimming laps slowly for one hour burns 510 calories if you weigh 154 lbs, according to the Centers for Disease Control and Prevention.
Distance
An average lap swimmer exercising at a moderate pace completes 100 meters in about 2 minutes, so swimming 1,000 meters would take you about 2 X 10, or 20 minutes, if you maintained that speed. Considering that your pace usually slows over the 1,000-meter distance, you would take about 30 minutes to complete the entire distance. You would burn about 250 calories swimming 1,000 meters if you weigh about 150 lbs., and you would burn 370 calories if you weigh 240 lbs.