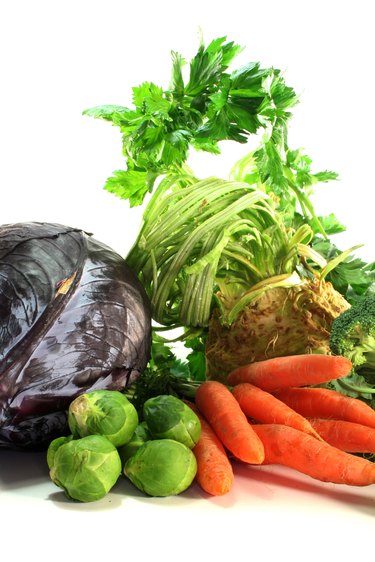 Eating vegetable soup is a great way to get your daily veggies, but to keep it low in carbs, don't randomly grab any old can of soup off the shelf. Commercially prepared soups have more carbs than a homemade soup made with fresh vegetables. Don't worry though, a basic vegetable soup is quick and simple to make. And if you fix a big pot, you'll have it ready to enjoy on those days during the week when you don't feel like cooking.
Almost-Any-Vegetable Soup
You can choose almost any vegetable from the list of foods allowed on your low-carb plan and turn them into soup. A big bowl overflowing with spinach, button mushrooms, snap peas, bell peppers and celery provides about 9 grams of net carbs -- total carbs minus fiber. Be careful if you add onion or garlic. You'll get 2 grams of net carbs from 2 tablespoons of chopped onion. The same portion of minced garlic has 5 grams.
To make a pot of vegetable soup that yields about six servings, begin by chopping a pound of fresh vegetables. Sauté them in olive oil, but don't let them get soft. This step mostly adds a layer of flavor, so you could skip it if you're in a hurry. Add about 4 cups of broth and simmer until the veggies are tender or al dente -- slightly firm -- if you prefer. Voila, you have vegetable soup.
You can use beef, chicken or vegetable broth, but go with beef or chicken to keep carbs down. They don't have any net carbs, while a cup of vegetable broth has 3 grams. To add flavor without boosting carbs, choose from seasonings such as bay leaf, celery salt, curry powder and Italian seasoning.
Low-Carb Cauliflower and Broccoli Soup
Cauliflower and unsweetened soy or almond milk form a creamy base for broccoli soup. Begin by sautéing a small amount of chopped onion in olive oil. Add unsweetened soy or almond milk and chopped cauliflower, then simmer until the cauliflower is soft. Blend the broth in a food processor until the lumps of cauliflower are gone, then add chopped broccoli and simmer until it's tender. A bowl that contains 1/2 cup of broccoli and a cup each of cooked cauliflower and almond milk has about 6 grams of net carbs.
Sprinkle shredded cheese over the top of the soup after it's scooped into a bowl and ready to be served. Try some Parmesan, mozzarella, cheddar, Swiss or feta; they'll add up to 1 gram of net carbohydrate per ounce. You could also top your soup with a little chopped bacon.
Carbs in Tomato-Based Vegetable Soup
Tomatoes create a natural base for vegetable soups, but watch portions because tomato broth is higher in carbs than other types of broth. Gazpacho, a vegetable soup served cold, is based on a broth of tomatoes and tomato juice. A bowl that holds half of a chopped tomato, 1/2 cup each of bell pepper and cucumber, a touch of onion and 1 cup of tomato juice contains roughly 13 grams of net carbs.
If 13 grams of net carbs sounds too high, bring the carb count down by replacing some or all of the tomato juice with a low-carb marinara sauce. On the flip side, phase 1 of the Atkins diet recommends getting 12 to 15 grams of net carbs from vegetables, which means you could fill your daily requirement with one bowl of gazpacho. However, tomato-based soups probably fit better into a low-carb diet that allows more than 20 grams of carbs daily.
You may be able to find some specially-formulated low-carb soups in the grocery store. If not, check the label on other soups and subtract the fiber from total carbs to get net carbs per serving. The Atkins Carb Counter shows that a 1-cup serving of various types of commercially-available mushroom, vegetable and tomato soups have 11 to more than 20 grams of net carbs. These soups may or may not work in your diet plan, depending on your carb restriction.
Better yet, use the blended cauliflower base to make a creamy mushroom or celery soup. Green leafy vegetables, like escarole, watercress, arugula and bok choy have fewer carbs than most other veggies. Toss them into the soup near the end of cooking, giving them enough time to barely soften without overcooking.
If your low-carb diet includes nuts, remove some of the veggies from the broth and blend them in a food processor with macadamia nuts or walnuts, then mix them back in with the soup. Along with adding rich flavor, they'll thicken the base.
Vegetable soup can be a hearty and low-calorie way to satisfy your hunger while also filling your body with beneficial vitamins and minerals. Combining several different colors and varieties of vegetable will increase the nutrition of your soup and provide new flavors. Eating a diet rich in vegetables may decrease your risk of heart disease, stroke, Type 2 diabetes and certain types of cancer. Preparing a homemade vegetable soup can help you consume plenty of these nutrient-dense foods.
This recipe can be prepared quickly and served with whole-wheat bread for a satisfying and nutritious meal. Combine chopped red-skinned potatoes, carrots, celery, onions and garlic in a soup pot. Cover with no-sodium vegetable stock and bring to a boil. Reduce heat to a simmer, cover and cook until the vegetables are tender, about 15 minutes. Add frozen green beans, corn and peas and bring to a boil again. Simmer until heated through and serve in warmed bowls with a sprinkle of part-skim mozzarella cheese for a boost of calcium.
Spicy Vegetable and Bean Soup
Beans add fiber and protein to soup and enhance the taste and texture. Saute chopped onions, jalapeno pepper and garlic in olive oil, until soft. Add sodium-free vegetable stock, chopped red bell pepper and two cans of no-salt pinto beans. Bring to a boil and then reduce the heat and simmer for about 10 minutes, or until hot throughout. Ladle into warmed bowls and serve with chopped lettuce, tomato and avocado as toppings.
Vegetable and Brown Rice Soup
Adding steamed brown rice to a pot of vegetable soup will add heartiness, as well as a healthy amount of fiber. Saute onions and garlic in olive oil for about five minutes. Add sliced carrots, celery and potatoes and cook for five more minutes. Stir in sliced mushrooms and cook for about three minutes. Add low-sodium vegetable stock, sea salt and coarse black pepper. Simmer the soup until the vegetables are tender. Stir in cooked brown rice and heat. Sprinkle with fresh parsley just before serving.
Cooking vegetables slightly allows them to retain their crispness and lend flavor to a vegetable soup. Saute chopped broccoli, cabbage, asparagus, green beans and zucchini in olive oil for three to five minutes, or until just beginning to cook. Add no-sodium vegetable stock and bring to a boil. Remove from heat and immediately ladle into warmed bowls. Top with fresh Parmesan cheese and serve with whole-wheat garlic bread.