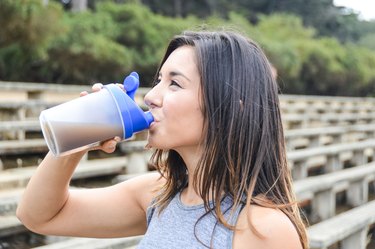 Glutamine and protein supplementation are safe to take together, considering that glutamine is actually a building block of protein. Both supplements are naturally occurring amino acids that are often used by athletes to help improve their performance and recovery times. It's important to follow the dosage recommendations of each supplement and to talk to your doctor before taking either one because these supplements are not for everyone.
The Facts
Glutamine and protein supplements are used by athletes, especially strength-training athletes, to help increase muscle mass, recovery times and to boost their immune system. Taken together, the two supplements are considered safe in most cases, although you should consult your doctor before taking any type of supplement. Protein and glutamine are both needed by the human body in order to maintain good overall health.
Protein
Protein is found in foods, such as meats, eggs, dairy products, nuts/seeds and some vegetables. Athletes may also choose to supplement protein in order to increase their muscle mass. The most common types of protein supplements include whey and soy protein. Whey protein is derived from cow's milk while soy protein comes from soybeans and is ideal for vegetarians. The Centers for Disease Control and Prevention, or CDC, points out that proteins are the building blocks of all bodily tissues, including muscles.
Glutamine
Glutamine is an amino acid, which is a building block of protein – there are a total of 20 amino acids your body needs, according to the CDC. Your body makes its own glutamine, and in most cases, you do not need to supplement it in your diet, according to the University of Maryland Medical Center. However, endurance athletes and some medical conditions may require glutamine supplementation; but you should consult your doctor before starting a glutamine regimen.
Recommended Dosage
Both Glutamine and protein are essential for good health, so they are generally recognized as safe for healthy people. The CDC suggests that teenage and adult women consume 46 g of protein per day while teen and adult men should aim for 52 and 56 g respectively. Adults aged 18 and up, who have been given the okay by their doctor to supplement glutamine, can safely take 500-mg doses one to three times per day.
Effects
As you exercise, especially lifting weights, your muscle tissue breaks down. Consuming protein helps to restore this muscle tissue, which is how your muscle gets larger. Bodybuilders may consume as much as 1 to 2 g of protein per pound of body weight in an effort to increase their muscle mass, although this should only be done under the supervision of a health professional. Glutamine supplementation is used to treat injuries/infections, inflammatory bowel disease, HIV/AIDS, cancer and for athletic performance, according to the University of Maryland Medical Center.