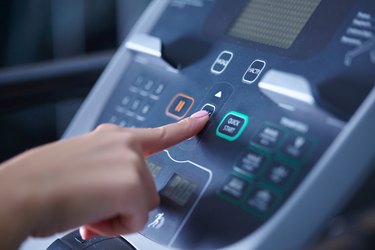 Matrix Fitness makes a series of treadmills loaded with modern features. They feature touch screen technology, multiple workout programs and some even have virtual scenery. Each section of the treadmill is color-coded for easy navigation. Those sections, the oversized buttons and large text make it easy to operate a Matrix treadmill.
Step 1
Press the green "Go" button to start. On some models this is the green "Quick Start" button. The touch screen will display tabs at the top and meters to the left and right of the screen.
Step 2
Set your speed. The meter on the right-hand side of the screen shows the current mph setting. Touch the red circle on the touch screen console and drag your finger up or down to increase or decrease the speed. Alternatively, you can press the speed knob, the yellow handle below the console on the right-hand side.
Step 3
Press and drag the red circle on the left-hand side of the touch screen console to change the incline. Alternatively, use the incline handle just below the console on the left side.
Step 4
Press a tab on the touch screen that corresponds with the type of workout you want, such as "5K," "Fat Burn," or "Rolling Hills." Press the red sliders on the touch screen and drag the meters up or down to customize it to fit your age, weight, and time settings.
Step 5
Press the "Life Fitness" button to open the media panel to watch television, listen to your iPod and much more. You can also change your speed, time and incline with the virtual arrows displayed on the bottom of the touch screen. Press the "Cable TV" button to watch television and use the up and down arrows to change the channel.
Tip
Plug in your iPod using the black cord on the right side of the treadmill. Press the "Virtual Active" button to choose from a variety of scenery.
Warning
Always attach the safety device to your clothing before using a Matrix treadmill. Look for a cord hanging in the front of the treadmill console. This device will cause the treadmill belt to stop if you miss a step.