Iced tea may seem like a healthy lunchtime companion, but the Thai version is sweet and creamy, making it more suitable as a dessert than a meal-side beverage. Plain tea is a much healthier option, but If you can't the resist traditional Thai drink choose as small a serving as possible -- or share it with a friend -- to help spare your waistline. Use a calorie counter app to input your Thai iced tea to check out the nutritional value and how much of your daily allowance it uses.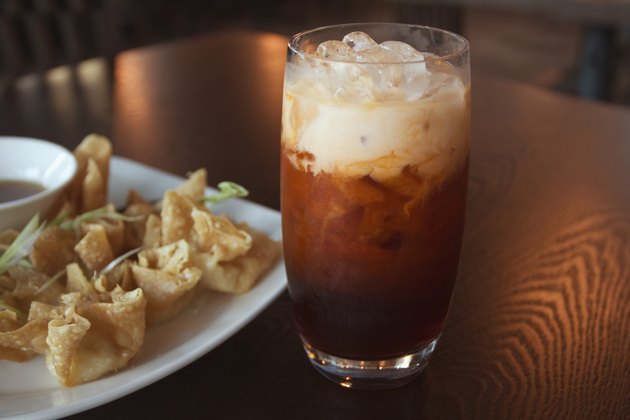 What's in Your Tea
Thai iced tea has a base of black tea leaves mixed with anise, cinnamon and vanilla. The tea comes in block form at Asian markets, although individual teabags are also available. During preparation, the tea is typically mixed with sugar and topped with one or more thick dairy products such as half-and-half, cream, evaporated milk or sweetened, condensed milk.
Calorie Breakdown
Calorie count varies greatly according to preparation. One relatively light recipe from AARP, made with sugar and evaporated milk, contains 182 calories per serving. A recipe from "Epicurious," made with sugar, heavy cream and sweetened condensed milk, is much heftier at 301 calories per serving. At one chain restaurant, a small Thai iced-tea beverage contains 280 calories, while a large one contains 410 calories. If you brew your own Thai iced tea and don't add any additional ingredients, you can enjoy a calorie-free beverage.
Nutrient Breakdown
Depending on the serving size and ingredients, Thai iced tea may provide 10 to 26 percent of the daily value for carbohydrates -- including 28 to 42 grams of sugar -- and 4 to 21 percent of the DV for protein. Your tea may also provide 7 to 23 percent of the DV for total fat, as well as 14 to 35 percent of the DV for saturated fat. Excess saturated fat is linked to high cholesterol levels, another reason to limit Thai iced tea and other full-fat dairy products in your diet.
Vitamins and Minerals
Thai iced tea is not a rich source of most vitamins and minerals, but it does contain calcium, thanks to the dairy. For example, the AARP evaporated-milk version provides 17 percent of the DV for this nutrient. If you use fortified milk products, your beverage may also contain varying amounts of vitamins A and D.