Red Bull Sugar Free is an energy drink that contains all the ingredients of the original Red Bull except sugar, which is replaced by aspartame and sucralose sweeteners. According to Red Bull, Red Bull Sugar Free increases performance, metabolism and mental alertness, and it improves emotional status. Despite the reported benefits and popularity, Red Bull energy drinks have come under scrutiny. Two of the primary ingredients in Red Bull Sugar Free, taurine and caffeine, can have significant side effects that you should be aware of.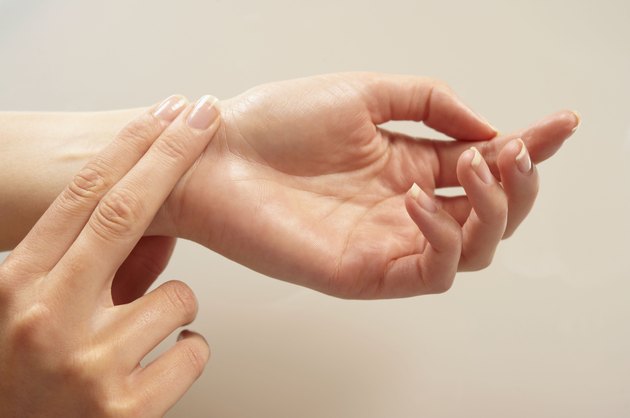 Increased Heart Rate
One possible side effect of Red Bull Sugar Free is an increase in heart rate. The University of Michigan reports that caffeine can increase your heart rate and lead to heart arrhythmias if you are particularly sensitive to caffeine. According to Johns Hopkins University, in a 2007 survey of 496 college students, 51 percent consumed at least one energy drink a week, and 19 percent of students reported heart palpitations from consuming energy drinks. Although the caffeine from Red Bull Sugar Free may make you more alert and energized, only sleep will actually replenish your energy and prevent fatigue.
Increased Risk of Heart Attack or Stroke
Red Bull Sugar Free may increase your risk of having a heart attack or stroke. A 2008 Australian study by the Cardiovascular Research Centre at the Royal Adelaide Hospital concluded that just one can of Red Bull can increase the "stickiness" or viscosity of your blood to levels of significant risk for clotting. Blood clotting is one of the primary precursors to stroke and cardiac arrest.
Harvard University reports that taurine, one of the main ingredients in Red Bull Sugar Free, may also dilate blood vessels around the heart. This increase in vasodilation can cause too much blood to flow to your heart and can increase cardiac stress. The cardiovascular concerns are not taken lightly. Red Bull drinks are banned in Norway, Uruguay and Denmark because of the potential risks to cardiovascular health.
Dangerous Combination With Alcohol
Red Bull Sugar Free can have deadly results if combined with alcohol. Much of the controversy that surrounds Red Bull energy drinks stems from its popularity in the party scene. The controversy extends beyond the fact that both alcohol and caffeine act as diuretics and can dehydrate you. According to Steve Clarke, director of Virginia Tech's College Alcohol Abuse Prevention Center, combining the stimulant ingredients in Red Bull with the depressant effects of alcohol can cause cardiac problems.
It is a popular misconception that the caffeine in energy drinks like Red Bull Sugar Free decreases the effects of alcohol. According to the University of Florida, caffeine actually increases your degree of impairment from alcohol. The additional judgment impairment can increase your risk of consciously or unconsciously driving illegally under the influence and your risk of having a serious accident.