Quinine, a bitter tasting powder made from the bark of the cinchona tree, is known mainly for its use in malaria treatment. Quinine has been used to treat nocturnal leg cramps, but the Food and Drug Administration states that the potential side effects outweigh any potential benefits of prescription quinine for this purpose. Side effects of quinine include a decrease in platelets, which is a condition called thrombocytopenia that can cause serious bleeding and kidney disease. Several drinks also contain small quantities of quinine.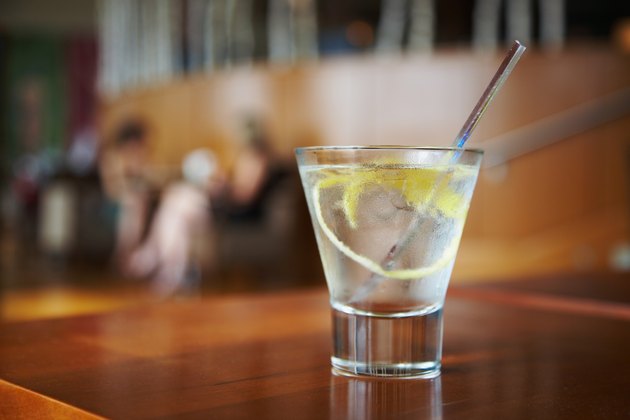 Tonic Water
Tonic water, a bitter liquid sometimes used as a mix for alcoholic drinks, contains only a small amount of quinine compared to quinine medications. The FDA reports that prescription quinine sulfate capsules contain 324mg compared to 20mg of quinine in a 6 oz. glass of tonic water. While this amount is small, one pregnant woman who drank more than a liter of tonic water every day while pregnant delivered a child with tremors. The infant had quinine in his urine.
People with an irregular heartbeat, ringing in the ears or damage to the optic nerve should not drink tonic water before discussing this with their physician. Quinine can worsen all these effects. People with bleeding disorders or those taking blood thinners should also avoid tonic water unless allowed by their physician.
Bitter Lemon and Lime
Several companies produce bitter lemon or lime drinks, which contain tonic water and lemon or lime flavoring. Because bitter lemon and lime products contain tonic water, the same restrictions that apply to plain tonic water apply to bitter lemon and lime.
Considerations
Quinine has a number of potentially life-threatening side effects. Even though tonic water and flavored drinks containing tonic water contain only a fraction of the quinine found in prescription medications, they can cause problems. People who drink large quantities of tonic water or who have health problems that could be potentiated by quinine should be aware of possible side effects, including visual disturbances. Quinine can also cause hypoglycemia, confusion, rash, seizures, nausea, hearing disturbances, vision changes, chest pain or bleeding.