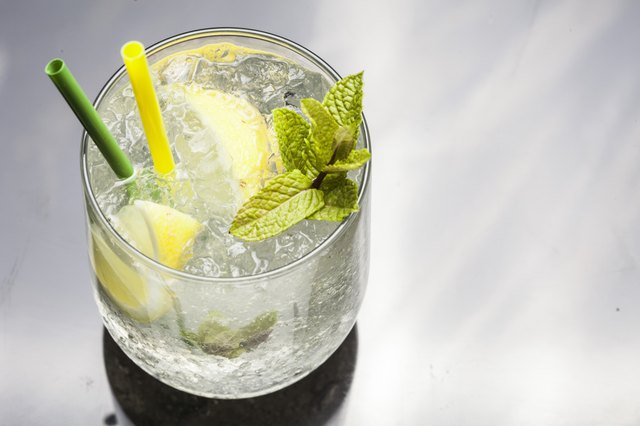 Made primarily of carbonated water, sugar and quinine, tonic water is a bitter-tasting beverage you can drink on its own or combined with liquor, typically gin, to make a cocktail. Traditional tonic water contains added sugar, while diet tonic water contains artificial sweeteners.
Calories and Carbohydrates
A 12-ounce serving of regular tonic water contains between 124 and 130 calories. The added sugar in regular tonic water is responsible for the 32 to 33 grams of carbohydrates a 12-ounce portion contains. Diet tonic water doesn't contain any calories or carbohydrates. This is an important difference if you are trying to lose weight because the added sugar contributes to total caloric intake. Eliminating added calories can help you reach your weight-loss goals.
Added Sugar
All of the carbohydrates in a 12-ounce serving of regular tonic water are from added sugar. A serving of regular tonic water, which ranges between 8 and 12 ounces, has the equivalent of between 8 and 8.25 teaspoons of added sugar. This is more than the 6- to 9-teaspoon limit recommended by the American Heart Association. Drinking sugar-sweetened beverages is associated with unhealthy weight gain, according to a 2006 article published in the "American Journal of Clinical Nutrition."
Quinine Content
Quinine is added to regular and diet tonic water, and it's the substance that gives the water its characteristic bitter taste. The original purpose of adding quinine to water was to help treat malaria, though tonic water is no longer widely used to treat any medical condition. The U.S. Food and Drug Administration mandates that tonic water can't have more than 83 parts per million of quinine. There are about 15 milligrams of quinine in a bottle of tonic water, according to Drugs.com. This small amount isn't dangerous, but you should always check with your doctor before adding tonic water to your diet to be sure it's safe for you.
Healthy Beverage Choices
If you're watching your calorie, carb and sugar intake, diet tonic water might be the way to go. When you opt for regular tonic water, figure the calories, carbs and sugar into your daily total so you can make adjustments elsewhere in your diet. Keep in mind that artificial sweeteners, such as those in diet tonic water, aren't without their risks. The artificial sweeteners used in diet tonic water are approved by the FDA, but some people are sensitive to them. Diet tonic water also contains more sodium than regular, with 155 milligrams compared to the 55 milligrams in regular.