A bowl of spaghetti with red sauce can supply you with a significant amount of calories, many of which are in the spaghetti, not the sauce. When making spaghetti with red sauce, you can use store bought sauce, or you can make your own.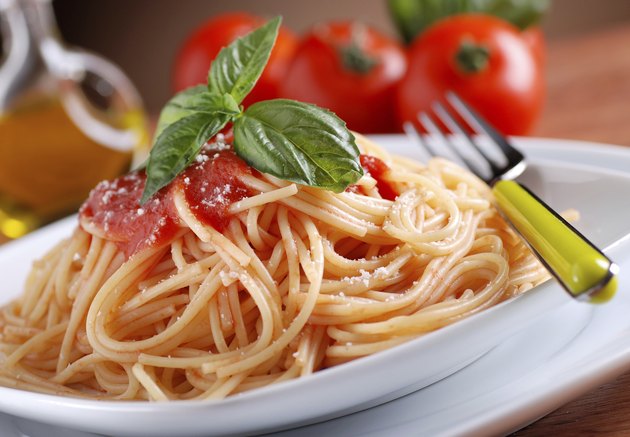 The Facts
One four-ounce bowl of cooked plain spaghetti contains 392 calories. That same bowl of spaghetti with ½ cup of red sauce without meat on it contains 463 calories. Four ounces of cooked whole-wheat spaghetti contains 344 calories. With a ½ cup of meatless red sauce, it contains 415 calories.
Considerations
The number of calories in red sauce may vary from one prepared sauce to the next. One influential ingredient in red sauce that determines the number of calories this sauce contains is oil. One homemade red sauce may contain more oil than another homemade red sauce, or it may contain less oil.
Prevention/Solution
To keep an accurate account of the number of calories in the bowl of spaghetti with red sauce you frequently eat, use the same commercially prepared red sauce on your spaghetti every time you make spaghetti with red sauce, and always use the same amount of sauce and spaghetti. If you make your own red sauce, always measure the same amount of ingredients to keep the calorie content the same.