Male testosterone plays an important role in both the male and female body when present in normal amounts. For men, testosterone plays a vital role in sexual development and sexual function and contributes to the deepening of a man's voice and muscle strength. For women, testosterone is converted into estrogen in the ovaries, before menopause. However, in some instances, too much testosterone is produced in both sexes as a consequence of a condition or disorder. If you are concerned about your testosterone levels, see your doctor to get a testosterone test to confirm your suspicions.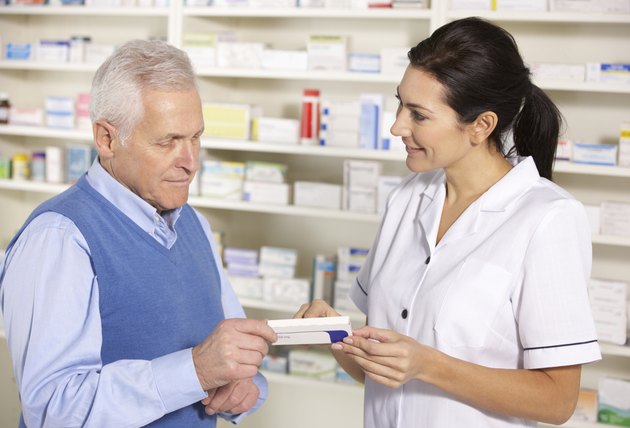 Use
A number of conditions can cause undesirable testosterone levels. Testosterone reduction therapies are commonly used in prostate cancer, polycystic ovary syndrome and male-to-female gender reassignments. In prostate cancer, testosterone enlarges the cancer cells, according to Stanford Medicine's Cancer Center. Doctors use hormone therapies to reduce the testosterone to encourage the cancer to shrink. Women with polycystic ovary syndrome, or PCOS, often develop acne, excess body hair and occasionally baldness as a result of their testosterone levels. Male-to-female gender reassignment therapy involves the reduction of testosterone levels to give the patient a more feminine appearance.
Treatment
Several treatments are used to reduce testosterone. Your doctor might prescribe an anti-adrogen drug or a luteinizing hormone-releasing hormone, LHRH, analog. Anti-androgens stop your body from using testosterone, while LHRH drugs decrease the amount of testosterone produced. Men sometimes have their testicles removed in a procedure called orchiectomy, more commonly recognized as chemical castration. This procedure helps to reduce the amount of testosterone produced by the body.
Benefits
Hormone therapy for prostate cancer is often vital. Although it will not stem the cancer entirely, when used in combination with other cancer treatment, it can lessen symptoms, extend your life span and shrink tumors, according to MayoClinic.com. If you suffer from PCOS, using an anti-androgen drug can help to reduce acne and excess hair. These drugs can also eliminate the unwanted biological effects of testosterone in male-to-female patients including facial hair, baldness and erections.
Side Effects
The potential side effects of hormone therapy include hot flashes, breast growth, a loss of sex-drive, osteoporosis, impotence, nausea, diarrhea and fatigue. The anti-adrogen drug called spironolactone may affect your blood pressure, give you a skin rash and can sometimes cause a change in heart rate because of changes in potassium in the blood.
Considerations
Changes in lifestyle can sometimes improve testosterone levels. Weight loss can help to decrease the amount of insulin in your body, according to the University of Chicago Medical Center. Insulin increases the production of testosterone in the body, so avoid high sugar foods and simple carbohydrates and exercise regularly. Testosterone levels can fluctuate over the course of your lifetime. Age, body weight and even marriage can all have an effect on testosterone levels. According to the "Harvard University Gazette," holding an infant can temporarily lower testosterone, and marriage lowers testosterone indefinitely -- but surges upward when a marriage ends in divorce.