Chances are, when you have mucus build-up in your chest, you know what foods will help. Chicken soups and other liquids may break up some of that phlegm, while honey and cold, soft foods like applesauce and sorbet may be soothing. What's less clear is what foods actually aggravate your condition. Start by getting your chest illness diagnosed, and ask if your practitioner suggests restricting specific foods.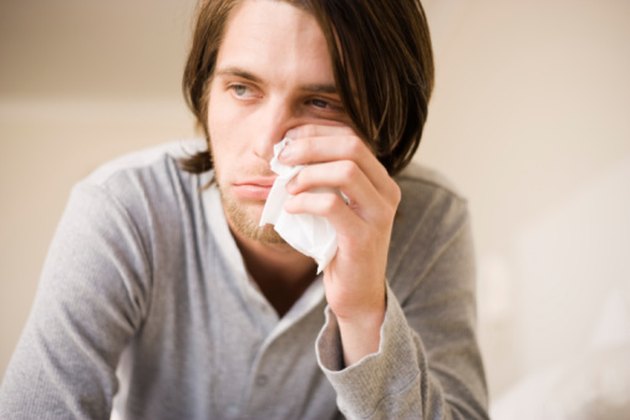 Condition
Illnesses which may involve mucus in the chest include both long-term and short-term illnesses. Mild chest colds and the acute chest colds known as bronchitis generally don't last longer than four weeks, while acute bronchitis and chronic obstructive pulmonary disease, or COPD, can be ongoing problems. Food allergies may also be the culprit behind the phlegm buildup.
Symptoms
It's generally easy to known when you have a build-up of phlegm in your chest. You may actually cough up the mucus, or you'll hear or feel evidence of the phlem when you cough. Depending on the illness, you may also have a fever, headache, runny nose, stuffy nose or sore throat. Those accompanying symptoms, as well as how long the mucus stays in your chest, helps your doctor diagnose the problem.
Food and Chronic Conditions
If mucus in your chest is an ongoing problem, as in the case of (COPD), the cause may be in your diet. A 2005 study from the American Journal of Respiratory and Critical Care Medicine found that people who consume starchy foods, salty foods and fatty meats were about 1.4 times more likely to have a cough with phlegm than those who stuck to fruit and soy products. Foods which researchers identified as potential irritants to mucus-related ailments include pork, chicken, fish, French fries, processed meat, preserved foods, white pasta and other refined grains.
The Dairy Debate
Modern medicine appears to disagree about whether milk, cheese and other dairy foods may "cause" mucus, thicken it, or merely leave the impression of increased phlegm because of the foods' coating effect on the throat. According to a 2005 study in the Journal of American College of Nutrition, the belief that dairy products promote mucus is a false one, likely prompted by the thicker texture of dairy products -- not the mucus itself. MayoClinic.com confirms that milk doesn't cause your body to make more phlegm; however, it believes that dairy products may in fact thicken existing mucus, although people with chest colds accompanied by sore throats may ultimately be soothed by cold milk or ice cream. Ultimately, your own experiences should guide you. If the mucus in your chest seems to build up after you drink milk or sip cream soup, you may have a food allergy or may be experiencing a thickening effect.
Food Allergies
Food allergies may cause mucus production. Common food allergens include eggs, nuts, wheat and milk. If you can recognize an eating pattern which seems to cause or exacerbate mucus in your chest, avoid that food or food group entirely. If you suspect a food but can't confirm, consult an allergist.