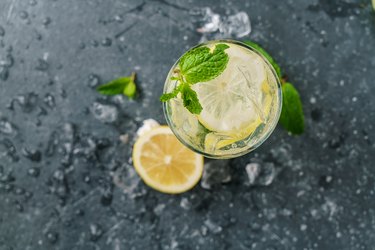 Technically, you aren't supposed to eat at all during the core fasting portion of the Master Cleanse diet. However, the creator of the diet issued a set of guidelines for careful eating to help you "ease in" to the fasting stretch and then "ease out" at the end.
Tip
If you are determined to do the Master Cleanse or any other "juice detox diet," speak to a physician first about which diet will be best for your body.
Beware of Extreme Cleanses
Before going into the details of the Master Cleanse, here's a word from the National Center for Complementary and Integrative Health about so-called detox and cleanse programs. They note that there's a very limited body of scientific research about such programs, and that even in studies that show positive results for factors like weight or insulin resistance, they're often of low quality or have not been peer-reviewed to ensure quality.
In particular, they cite a review of evidence published in the December 2015 issue of the Journal of Human Nutrition and Dietetics, in which researchers concluded there is no compelling evidence to support the use of detox diets for weight management or eliminating toxins from the body.
They also cite another evidence review, this one published in a November 2017 issue of Current Gastroenterology Reports, in which researchers conclude that while the very low calorie intake of a juice diet can lead to initial weight loss, the weight tends to come back on once you resume your normal diet.
Is the Master Cleanse Effective?
Only one small study has ever addressed the Master Cleanse directly. It was published in the May 2015 issue of Nutrition Research, and involved a group of 84 women. Of the test subjects, those who used the lemon detox diet and those who took a placebo juice diet showed significantly better changes in body weight and body fat than the control group.
Other markers, including changes in serum insulin levels and C-reactive protein, seem to indicate positive results for the lemon diet group. However, the placebo group showed some of the same beneficial effects and, as already noted, the study doesn't address what happened after the subjects stopped the juice diet. It also doesn't address possible contraindications or adverse reactions for this sort of diet.
Eating on the Master Cleanse
If you're going to do the Master Cleanse anyway, what can you eat? As explained in the Master Cleanse — an online magazine dedicated to this juice detox diet — you're not supposed to eat solid foods at all during the lemonade fasting portion of this diet, which typically lasts 10 days. However, you do have the choice to ease in to your upcoming fast by eating progressively lighter foods for a three-day "ease in" period. This is optional.
As noted in the Master Cleanse magazine, the lemonade you'll drink during the 10-day fasting period consists of the following, mixed into every 8 ounces of water:
2 tablespoons lemon juice
2 tablespoons maple syrup
1/16 teaspoon cayenne pepper
As an intrepid writer who tried the Master Cleanse lemon diet notes, the diet's creator, Stanley Burroughs, claims that this homemade drink provides all the essential nutrients your body needs. He also recommends taking a laxative tea or "saltwater flush" during the fast to keep your bowels moving.
Once you're done fasting, you undergo a three-day "ease out" period, in which you slowly reintroduce solid foods. This phase comes with clearer guidelines for what you can eat — perhaps because as even the cheery Master Cleanse online magazine notes, carelessly reintroducing solid foods after a fast poses a risk of serious complications, including "serious constipation or worse."
They recommend introducing 2 liters of orange juice mixed with water and maple syrup (optional, for extra calories) on your first "ease out" day, then fruit and vegetable juice or broth on the next day. On day three, include solid fruits and veggies, and on day four go back to your regular diet — although they advocate continuing to eat "live" foods.
Examples of gentle foods they recommend to ease you out of your fast include hummus, salads, homemade vegetable soups (no meat or dairy) and fresh, homemade juices and smoothies.
Is this an emergency? If you are experiencing serious medical symptoms, please see the National Library of Medicine's list of signs you need emergency medical attention or call 911.