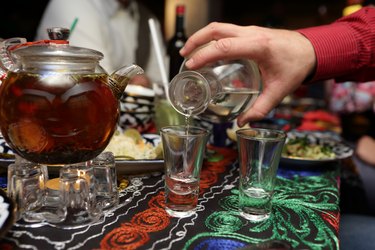 While the number of calories in pure vodka is based solely on its alcohol content, flavored vodkas like Smirnoff Vanilla get their calories from the alcohol and the included flavoring, and therefore have more calories than pure vodkas with the same amount of alcohol.
Calories
Smirnoff Vanilla has 35 percent alcohol by volume, which is lower than most pure vodkas. A 1.5-oz. shot of Smirnoff Vanilla has 92 calories, according to the CalorieKing website.
Carbohydrates
While pure distilled vodka does not have any nutritional value, Smirnoff Vanilla does have some carbohydrates from its flavoring. The 1 g of carbohydrates in a serving accounts for 4 calories from carbohydrates.
Considerations
If you're not going to be drinking Smirnoff Vanilla shots, it's important to also consider the calories in the mixer you choose. A sweet mixer that complements the vanilla flavor is likely to be full of sugar and calories; look for a diet or sugar-free version to avoid this issue.