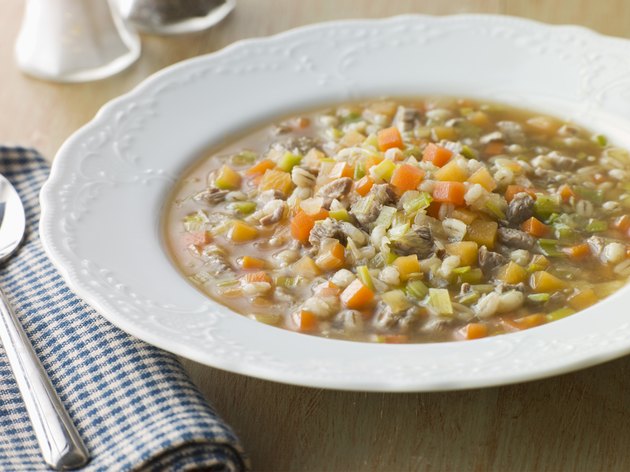 Barley is a grain that has long been used for food, livestock feed, and beer and whiskey production. Beef and barley soup is an excellent low-calorie, low-fat source of protein.
Calorie Breakdown
A 1-cup serving of beef and barley soup contains 132 calories, 21 g of carbohydrate, 8.99 g of protein, 2 g of fiber, 1 g of fat, 0.5 g of saturated fat, 480 mg of sodium and 10 mg of cholesterol, according to the U.S. Department of Agriculture's National Nutrient Database. Carbohydrate accounts for roughly 66 percent of the calories, protein for 27 percent and fat for 7 percent.
Considerations
A serving of beef and barley soup has 21 percent of the sodium and 3 percent of the cholesterol that MayoClinic.com recommends adults limit themselves to per day. It also offers 4 percent of the iron and 1.5 percent of the calcium adults should consume daily, according to the Institute of Medicine.
Serving Suggestions
Serve beef and barley soup with whole-grain bread or a mixed salad for lunch. Pair it with a turkey sandwich for dinner.