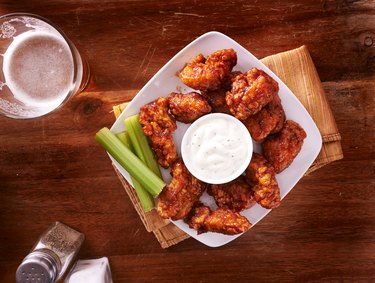 A uniquely American treat, Buffalo chicken wings are a perennial crowdpleaser. However, between the rich glaze with which they're prepared, and the traditional blue cheese dipping sauce, Buffalo wings' calories can add up faster than you might expect.
What Makes Buffalo Wings Fattening?
While chicken can be a helpful ingredient when it comes to adding protein while cutting fat and calories, not all chicken meals are alike. Those which are deep-fried, keep the skin on and use a rich sauce are obviously not in the same class as a poached, skinless chicken breast.
Buffalo wings were famously created in a Buffalo, New York, bar as a way to create something edible in a hurry, with few ingredients to choose from at the time. Some late-night ingenuity led the bar's owner to use the chicken usually reserved for stock-making, along with some hot sauce, butter, blue cheese, carrot slices and celery sticks, to create the now-classic appetizer.
According to the American Council on Exercise (ACE), the extra calories in Buffalo chicken wings come from both the cooking method and the ingredients used in preparation. The basic recipe calls for dredging the chicken in white flour, and then coating it with a sauce that combines hot sauce with butter. The wings are then deep-fried. That traditional Buffalo chicken wings recipe loads on not just the calories, but also the saturated fat and sodium.
Understanding Traditional Buffalo Wings Nutrition
Buffalo wings are popular enough that you don't have to go very far to find a chain restaurant or deli selling some already-prepared wings. They're also readily found in the freezer section of supermarkets, as a quick heat-and-serve option for game day.
At national chain Domino's, the smallest available portions usually have about 4 wings, weighing in at about 3 ounces. You can expect the chicken pieces themselves to contain roughly 330 calories when made with the standard sauce. Additional wing sauce adds about 180 calories. The traditional blue cheese dipping sauce contains an additional 210 calories, while a ranch alternative has about 160 calories.
Frozen chicken wings that are similar to the Buffalo style can vary greatly, depending on the brand. According to the U.S. Department of Agriculture (USDA), typical preparations of store-bought chicken wings made with a hot pepper sauce contain about 270 calories per 3-ounce portion. Even a modest dollop of store-bought blue cheese dip adds an additional 140 calories, according to the USDA.
One thing to keep in mind when analyzing traditional Buffalo wing nutrition is that a 3-ounce portion is the ideal — but not always the reality. While nutritionists typically recommend that portion for protein, it's easy to get carried away when you're indulging in appetizers of Buffalo chicken wings. If you eat the larger portions you can find on some Buffalo chicken wing menus, keep in mind that you're doubling or tripling the calories consumed in both the wings and the dipping sauces. In fact, it's not difficult to exceed 1000 calories when enjoying a generous portion of these tasty treats.
Clipping Those Calorie Wings
ACE offers a healthier alternative to traditionally-prepared Buffalo chicken wings. Instead of a buttery basting sauce, marinate chicken pieces in a mixture of a few tablespoons each of buttermilk, hot sauce and vinegar.
For dredging, replace the white flour with a mixture of cornmeal and wheat flour. Finally, instead of deep-frying the wings, pan-fry them, a few pieces at a time, in small amounts of canola oil. The resulting calorie count is about 190 calories for a 3-ounce serving, while the salt, fat and sodium levels are also significantly reduced.
The Mayo Clinic's healthier version of blue cheese dressing starts with 2 parts fat-free mayo to 1 part each of crumbled blue cheese, and buttermilk. If you want to make it less runny, use plain Greek yogurt instead of the buttermilk. To this base, add fresh garlic and horseradish, along with Worcestershire sauce and cayenne pepper, all to taste. A 2-tablespoon serving has about 35 calories.
Still want to make sure you keep your calories and fat under control? Focus on the celery sticks and carrot slices that usually accompany Buffalo chicken wings. One sliced carrot is only about 30 calories, while two stalks of celery only add 15 calories to the dish. Filling up on these vegetables before you dive into the chicken wings can help you keep your wing consumption under control.