Eating a balanced diet is an easy way to fulfill the dietary recommendations and receive the benefits of a variety of macro- and micronutrients. "Balance" isn't always easy to define, however, especially when recommended intakes differ based on your age, sex, weight, health status, physical activity level and other factors. Learning more about specific recommended daily allowances is a smart way to start planning healthy meals.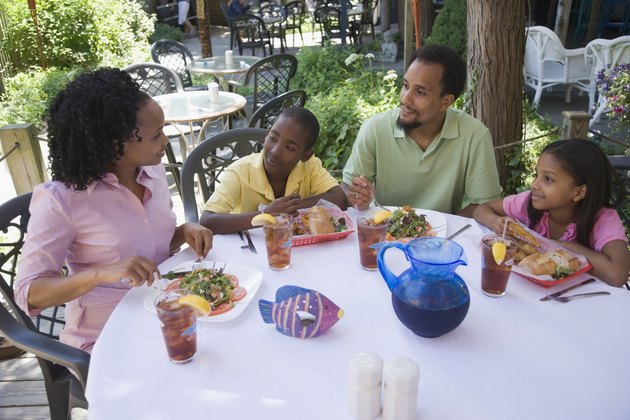 Getting Your Protein
According to the Institute of Medicine, adult women need about 46 grams of protein per day, and adult men need about 56 grams, which breaks down to 15 to 19 grams of protein per meal if you eat three meals a day. However, those figures are based on a recommendation of 0.8 grams of protein per kilogram of body weight, which makes them accurate for women who weigh about 125 pounds and men who weigh about 155 pounds. If you weigh more or are more active, you probably need more protein. Rice University recommends that active adults get up to 1.2 grams of protein per kilogram of body weight and that athletes intending to build muscle mass get up to 1.8 grams per kilogram. A scoop of protein powder has about 20 grams of protein, and a 3-ounce grilled chicken breast has 26 grams.
The Skinny on Fat
Eating healthy fats helps keeps you full and helps your body absorb essential vitamins and minerals. The IOM suggests that all healthy men and women get between 20 and 35 grams of total fat per day, which is a range of about 7 to 12 grams per meal. To avoid raising your risk of cardiovascular problems, eat mostly unsaturated fats such as nuts, seeds, avocados, olive oil and fish. A 3-ounce serving of wild Atlantic salmon has 7 grams of fat, and a tablespoon of olive oil has 13.5 grams.
Counting Carbs
The IOM has the same daily carbohydrate recommendation for men and women -- 130 grams, which works out to about 43 grams per meal. Another way to think about your carbohydrate intake is in terms of percentage. Group Health Cooperative suggests getting 50 to 60 percent of your total daily calories from carbs. So if you eat 2,100 calories per day or about 700 calories at each meal, about 350 to 420 calories per meal should come from carbs. One slice of whole-wheat bread has about 14 grams of carbs, and a large banana has 31 grams.
Filling Fiber
The IOM suggests that adult men up to age 50 get 38 grams of fiber daily, about 13 grams per meal, and that men over 50 get 30 grams daily, or about 10 grams per meal. For women younger than 50, the recommendations are 25 grams daily; for women older than 50, it's 21 grams daily, or about 7 to 9 grams per meal. For reference, a bowl of oatmeal made with 1/2 cup of dry oats has about 4 grams of fiber, and 1 cup of canned kidney beans contains about 13.5 grams.