A brain aneurysm is defined as "a bulge or ballooning in a blood vessel in the brain." Aneurysms often develop in arteries at the base of the brain and are usually the result of thin and degenerating artery walls, according to MayoClinic.com. In some cases, brain aneurysms rupture and cause bleeding in the brain--known as a hemorrhagic stroke. Such ruptures are life threatening and require immediate medical attention. Most brain aneurysms are detected while testing for other medical conditions. Treatment for a brain aneurysm that has not ruptured is recommended.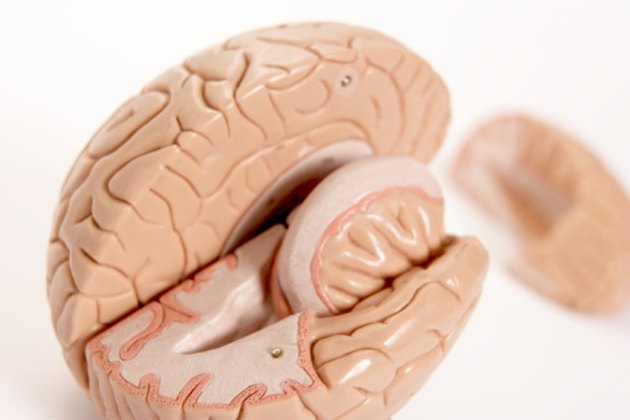 Symptoms
A small, unruptured brain aneurysm may not produce symptoms, but a larger aneurysm can press on tissues and nerves in the brain. This pressure can cause pain above or behind the eye, double vision and numbness or paralysis on one side of the face. A ruptured aneurysm may present with sudden, severe headaches, blurred vision, seizures, a stiff neck, vomiting and feelings of nausea, light sensitivity and loss of consciousness. In some cases, an aneurysm leaks a small amount of blood. It is highly likely that a leaking aneurysm will worsen and result in a severe rupture.
Risks
Some contributing factors to weakening of the artery walls are family history of brain aneurysms, hypertension, head injury, arteriosclerosis, old age, drug abuse--specifically cocaine, heavy alcohol consumption and low estrogen levels that follow menopause. There are also congenital disorders that increase the risk of developing brain aneurysms such as polycystic kidney disease, which increases blood pressure, and Ehlers-Danlos, a condition that weakens blood vessels.
Prevention/Solution
If an unruptured aneurysm is detected, lifestyle changes such as healthy eating and exercise can decrease the risk of its rupture. Eating a healthy diet and limiting caffeine intake will help lower blood pressure. Other precautions include avoiding heavy lifting and consuming aspirin.
Benefits
Living a healthy lifestyle such as quitting smoking and committing to regular exercise contributes to good health and well-being. The benefits include strengthening the heart, which results in stronger blood vessels and increased blood flow throughout the body. This increased blood circulation combats vasoconstriction, which can be caused by arteriosclerosis and hypertension, two risk factors for aneurysms. Exercise also leads to angiogenesis, the growth of new blood vessels from pre-existing blood vessels. This serves as treatment and precaution of brain aneurysms. Anti-seizure medications also treat seizures resulting from a ruptured aneurysm.
Considerations
Brain aneurysms, although serious, are preventable and most important treatable. Engaging in a healthy diet and exercise plan are key components to overcoming this condition. Do not dismiss warning signs and see a doctor if you present with any of the symptoms. Exercise can be considered one of the purest forms of medicine and with at least 30 minutes per day most days of the week, you can be on your way to optimal health.