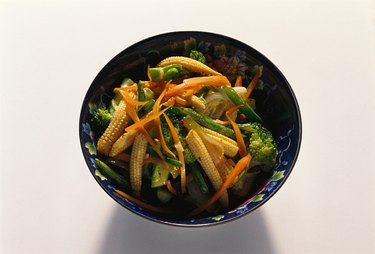 Pad Thai is a quick stir-fried noodle dish sold in small restaurants and street carts all over Thailand. It is a good vegetarian dish as you can substitute soy sauce for the fish sauce and add tofu for protein, rather than shrimp or chicken.
Vegetable Pad Thai Calories
A typical recipe for Pad Thai calls for 8 oz. of rice noodles and 1/2 lime, 1 egg, 4 tsp. fish sauce, 3 cloves garlic, 1/2 tsp. chili, 1 shallot, 2 tbsp sugar, 2 tbsp. tamarind or vinegar, 2 tbsp. vegetable oil, 1/3 cup firm tofu, 1.5 cups Chinese chives, 2 tbsp. peanuts, 1 1/3 cups beansprouts and 1 tbsp. preserved turnip.
According to the U.S. Department of Agriculture nutrient database, adding together all the ingredients and dividing by four, this soup has 238 calories in each of 4 servings, 11 g of fat, 29 g carbohydrates and 7 g protein.
Restaurant Pad Thai
Pad Thai served in restaurants may not be as healthy as homemade pad Thai. A restaurant serving of vegetable Pad Thai can have 800 calories, 32 g protein, 19 g of fat and 2,505 mg of sodium per serving, according to the Rochester Institute of Technology.
Considerations
Restaurants typically serve larger portions than you would at home, and they use more oil and seasonings, including salt, to make food richer and more appealing. To control calories when you eat vegetable pad Thai in a restaurant, eat only half the amount served and ask the restaurant to use less oil when stir-frying the ingredients.