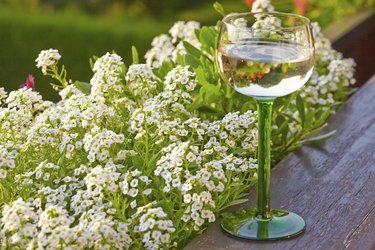 Pinot grigio is a crisp, dry Italian white wine that, according to Joseph Bastianich in his book "Vino Italiano: The Regional Wines of Italy," is best served as an aperitif, or pre-meal cocktail. The fresh, mild flavor primes the palate for food.
Calories
A 5-oz. glass of pinot grigio (known as pinot gris outside of Italy) wine contains 123 calories. That is about 6 percent of the recommended daily value for calories, based on a daily diet of 2,000 calories.
Protein, Fat, Carbohydrates
The calories in a 5-oz. glass of pinot grigio consist of about 120 calories, with around 11% of the calories from carbohydrates. There is no fat. The sugars in the wine contain three grams of carbohydrates, or 1 percent of the recommended daily value.
Health Benefits
In moderation, a glass of wine is very healthy. Bastianich writes about studies showing that some benefits of drinking a daily glass of wine may be to lower cholesterol levels, prevent cellular damage, and reduce the risk of coronary heart disease.
Warnings
According to the surgeon general, women should not drink alcoholic beverages during pregnancy because of the risk of birth defects. Excessive consumption of alcoholic beverages impairs a person's ability to drive a car or operate machinery, and may cause health problems. Always drink responsibly.