Tortilla soup is a traditional Mexican dish made with tomatoes, chicken, chiles in adobo sauce and, of course, tortillas. A calorie-rich food, tortilla soup gets much of its nutritional value from carbohydrates and fats, particularly saturated fats.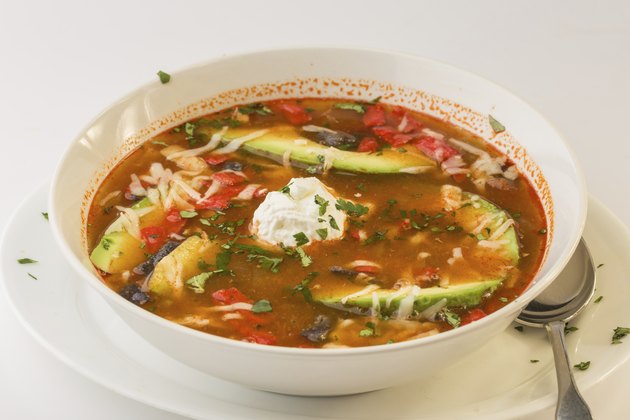 Calories
The U.S. Department of Agriculture reports 235 calories in a 1-cup serving of tortilla soup. Fats deliver 120 calories, carbohydrates provide 75 calories and proteins provide 40 calories per serving.
Components
A 1-cup serving of tortilla soup weighs around 240 g, according to the USDA. Fats offer 13.5 g, while carbohydrates provide almost 19 g and proteins weigh 10 g, Water and other nutrients make up the remaining portion.
Nutrients
Essential vitamins in tortilla soup include vitamins A, B6, C and K; thiamine; riboflavin; and niacin. Dietary minerals include calcium, copper, iron, magnesium, phosphorus, selenium, zinc and potassium.
Considerations
Although tortilla soup is nutritious, providing vitamins, minerals and calories, the soup is also high in saturated fats, with 19 g of saturated fat or more than 100 percent of the daily recommended intake per serving. The American Heart Association suggests eating less than 16 g per day as part of a typical 2,000-calorie daily diet to help minimize the risk of heart disease.