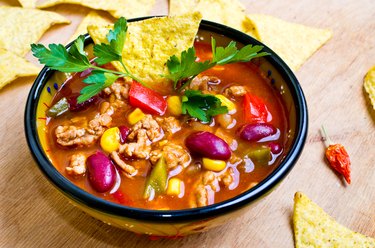 Tortilla soup is a traditional Mexican dish made with tomatoes, chicken, chiles in adobo sauce and, of course, tortillas. A calorie-rich food, tortilla soup gets much of its nutritional value from carbohydrates and fats, particularly saturated fats.
Taco soup is another delicious dish that usually features beans and ground beef. Find out the nutrition facts for both soups.
Calories in Tortilla Soup and Nutrition Info
Here's a breakdown of tortilla soup nutrition facts per 1-cup serving, per the USDA:
281 calories
18.3 g fat
29 mg cholesterol
667 mg sodium
18 g carbohydrates
11.6 g protein
Essential vitamins in tortilla soup include vitamins A, B6, C and K as well as thiamine, riboflavin and niacin. Dietary minerals include calcium, copper, iron, magnesium, phosphorus, selenium, zinc and potassium.
Although tortilla soup is nutritious, providing vitamins, minerals and calories, the soup is also high in saturated fats, with nearly 7 grams of saturated fat per cup. The American Heart Association suggests eating less than 13 grams per day as part of a typical 2,000-calorie daily diet to help minimize the risk of heart disease.
Calories in Taco Soup and Nutrition Info
Beef and red kidney beans are high-protein foods that are ingredients in taco soup. One cup of taco soup contains a significant amount of calories.
Here's a breakdown of taco soup nutrition facts.
370 calories
14 g fat
70 mg cholesterol
1,369 mg sodium
35 g carbohydrates
27 g protein
There are usually around 370 calories in taco soup with ground beef per cup serving. Here's a breakdown of calories in specific ingredients in taco soup:
Ground beef calories per cup: 488
Calories in a tortilla

corn tortilla: 52
flour tortilla: 90
To avoid consuming excess calories from taco soup, make taco soup with 95 percent lean ground beef. One hundred grams of 95 percent lean raw ground beef contains 78 fewer calories than 100 grams of regular raw ground beef (85 percent lean).
To eliminate additional calories, use less corn in the soup and opt for corn tortillas instead of flour ones.